Enjoying a cup of coffee in the morning is a sacred routine for coffee lovers. When you don't have time to go to a coffee shop, instant coffee can be your savior.
Even though there are many opinions that instant coffee is not comparable to the original one, but the fact is that now many specialty coffee roasters are starting to sell instant coffee. What's more, instant coffee is more reliable for hikers, frequent travelers, and those who prefer convenience.
This time, we will review a series of the best instant coffee for you. We will also discuss related matters and explain how to serve coffee to make it taste better. Happy reading
What Is Instant Coffee?
Instant coffee is a type of coffee drink that comes from the dried coffee extract. This drink allows you to prepare coffee quickly by simply adding hot water to the coffee grounds or crystals and stirring.
Due to its shape and solubility, it is also called soluble coffee, crystal coffee, and ground coffee. However, currently, instant coffee is also produced in concentrated liquid form ready to drink.
A Brief History
In the early era of its discovery, instant coffee was developed and introduced in various countries. Not only that, instant coffee is also patented under various trade names so that it can be mass-produced.
Instant coffee was first discovered and patented in France in 1881 by Alphonse Allais, with patent number 141520.
Then in 1890, a man from Invercargill, New Zealand, named David Strang was also recorded as patenting it with patent number 3518. He even sold his soluble coffee products under the trade name Strang's Coffee.
The discovery of this product is also often associated with Satori Kato, a Japanese scientist who worked in Chicago in 1901. He was the person who introduced the powder substance at the Pan-American Exposition which was held in Buffalo, New York.
Not long after, in 1910, George Constant Louis Washington developed his own instant coffee process, he was the first to market instant coffee commercially.
Then in 1938, a big brand that we know until today, namely Nescafé, has introduced a coffee refining process with more advanced technology.
How Instant Coffee Is Made?
The first thing that is done in making instant coffee is making coffee extracts. The extract is made by brewing ground coffee beans, as well as brewing regular coffee.
When finished, the water will be removed from the coffee, leaving the pure coffee extract in the form of a dry fraction or powder. This series of processes is called extraction.
The next process is drying, turning the extract into a powder or granular form. Drying is typically carried out through two main methods, they are:
Spray-drying. The coffee extract is sprayed into hot air so that the droplets dry quickly, then turn into a fine powder or small pieces.
Freeze-drying. The coffee extract was frozen first and then cut into small pieces, after that, it was dried at very low temperatures and under vacuum conditions.
Both methods will maintain the quality, aroma, and taste of the instant coffee produced.
The Advantages
In simple terms, we can know that instant coffee has advantages, including:
Convenience and speed of preparation as it dissolves quickly in hot water
Has a long shelf life, provided it is kept dry
Leaves no coffee grounds left in the glass or cup, thereby reducing cleaning work
It has a lower shipping weight and volume than regular coffee beans or ground coffee
How To Make Instant Coffee Taste Better
To prepare instant coffee, we usually add a teaspoon of ground coffee to a cup of hot water, this is the common way we know. However, do you know if there are other ways you can improve the taste of your drink? Here are tips for you:
Try to put a teaspoon or two of cold water in your cup first.
Pour your instant coffee and stir until it mixes with water very well, this makes the powder brew more gently.
Finally, pour hot water into your cup and enjoy as usual.
Best Instant Coffee Brands Reviews
In order to find the best instant coffee, we have done rigorous research. Apart from reviewing independently, we also refer to several coffee blogs. The result? We have summarized at least 10 of the best instant coffee brands, here is our review for you:
Waka Coffee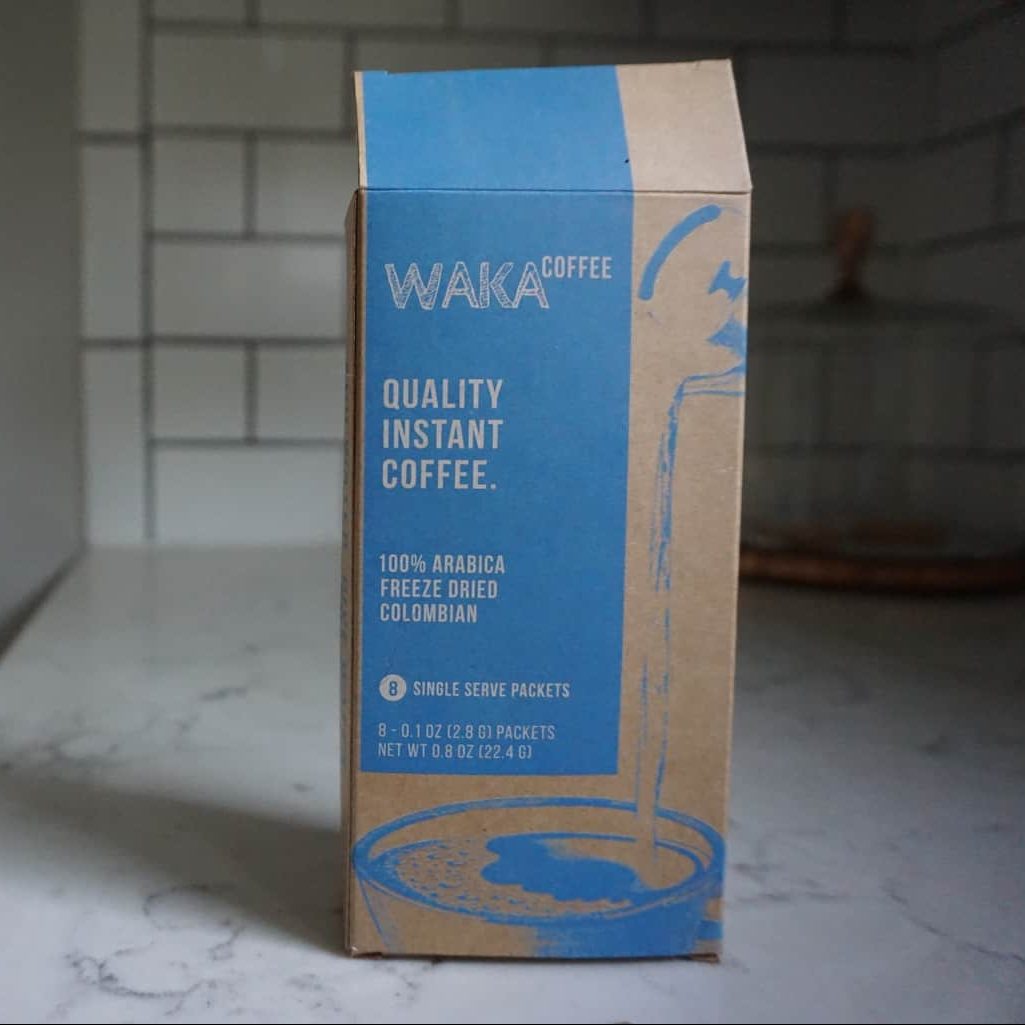 Waka Coffee made of 100% high-quality Arabica beans with a medium roast. It has a delicious flavor with a smooth, balanced Colombian roast and also notes of citrus.
The beans are also freeze-dried to preserve the original flavor of the beans and their aroma. For all these reasons, the professional reviewers rated it as the best instant coffee.
Waka Coffee's available in a variety of size options. You can start out with an 8 single-serve pack box (price $12) or go big with a 24 single-serve pack.
Mount Hagen Organic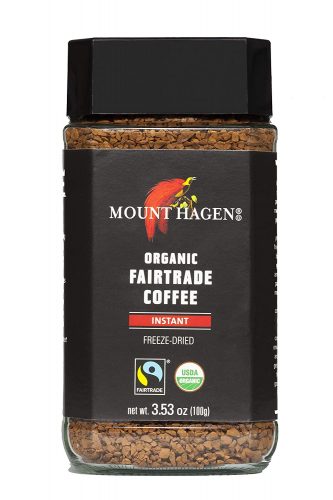 Mount Hagen comes as the answer for those who wanting coffee but also really wanting to sleep at some time. It because this product is decaf (caffeine-free).
However, the producer is keeping careful to preserve the depth and aroma of this coffee. The sophisticated blend of Papua New Guinea Fruit combines, Peru nuts, and the spice of Honduras is very amazing.
Mount Hagen belongs to the organic fair trade production, freeze-drying, and has a reasonably priced ($30).
Nescafé 3-in-1 Sticks Original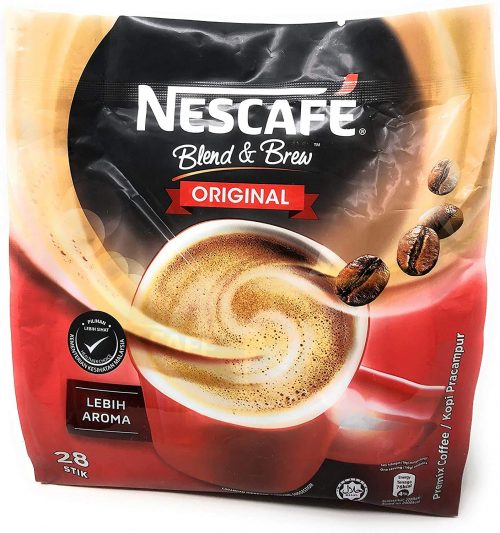 This is an alternative for those who can't drink their morning caffeine black. This coffee product imported from Nestle Malaysia with HALAL certification.
Come in stick form sachets, which is great for hot or Iced coffee. Overall this 3 in 1 coffee has become the best Asian coffee brand.
Folgers Classic Roast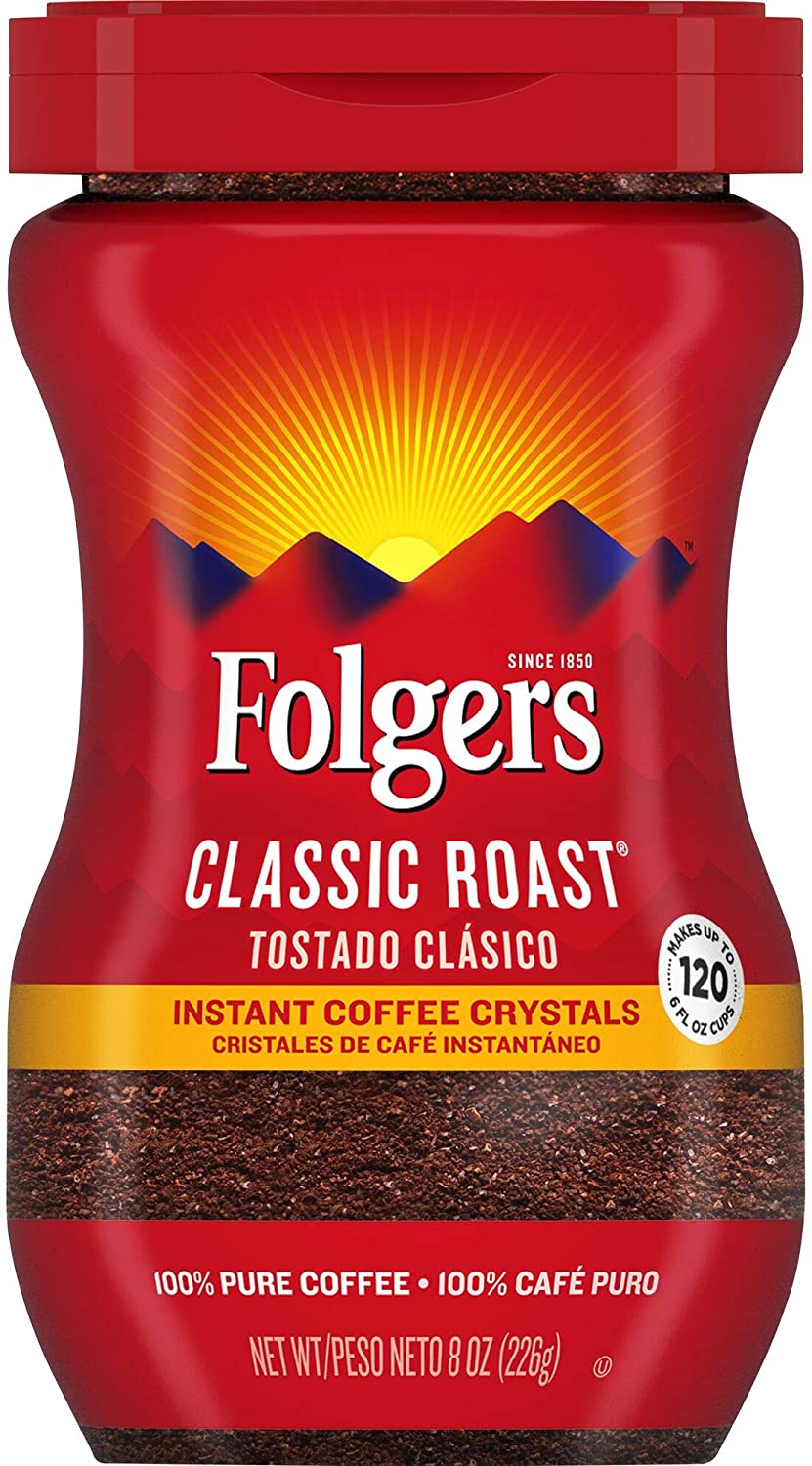 Folgers has been making coffee since 1850, his experience is unquestionable. One of the products is instant crystal coffee which is also one of the most popular types of freeze-dried instant coffee.
Despite the affordable price tag (around $ 7), it still has a great all-body flavor. In addition, the crystals dissolve very quickly with just hot water. All the reasons above are the foundation for why we include this product in this review.
Four Sigmatic Mushroom Coffee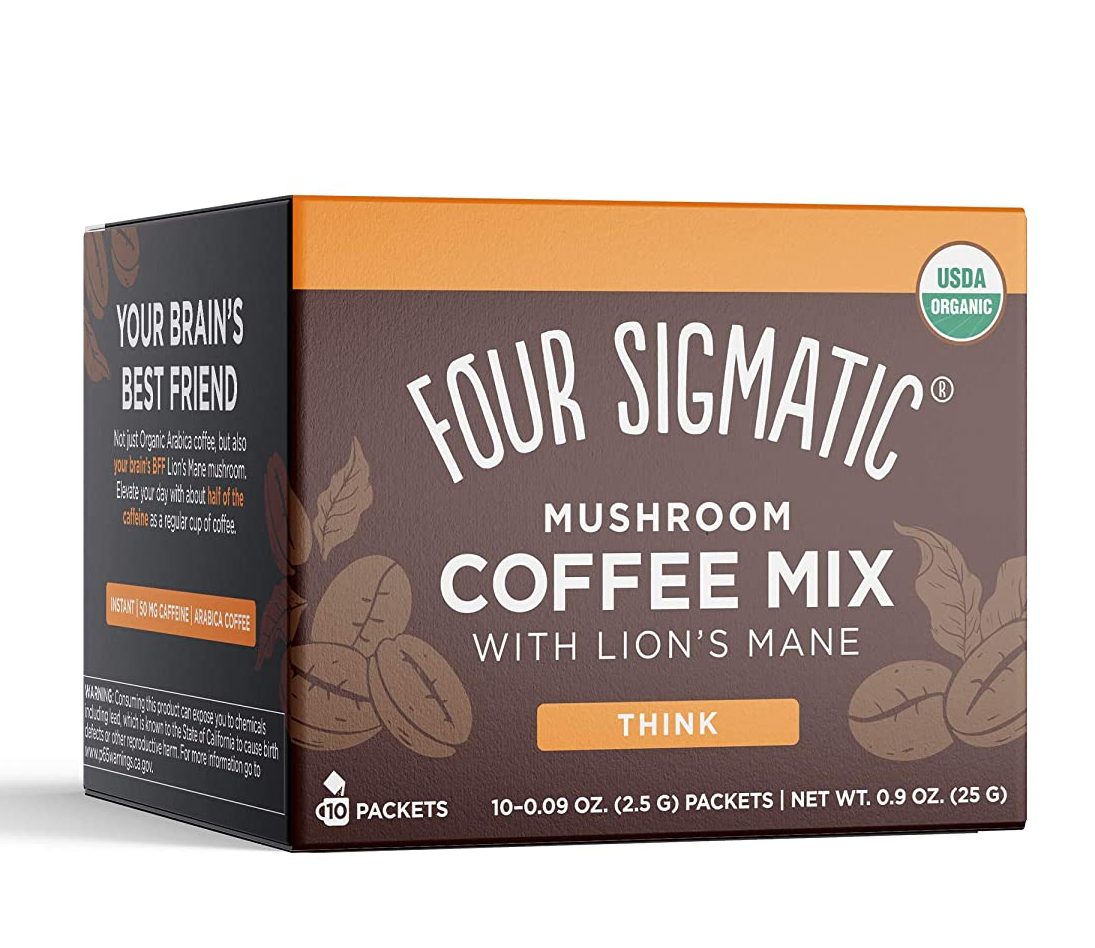 Now, it's time for you to taste something really unusual, a creativity that is different from most coffee products.
As the name implies, Four Sigmatic Mushroom Coffee contains mushrooms in the mixture. In addition to using 100% organic Arabica coffee, there are Organic Lion's Mane Mushrooms and organic Chaga mushrooms added to the coffee mixture.
Did you know that this is one of the best selling coffees we have found. The reason? Even though it contains mushrooms, the drink doesn't taste like mushrooms. It's also claimed to help support focus and productivity, and give your immune system a boost.
If you're curious to try, you can buy one with a price tag of around $ 14 on the marketplace.
Death Wish Coffee Stick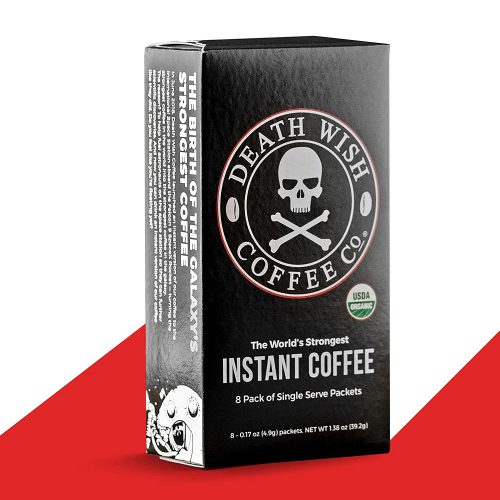 For you who didn't know yet how great this coffee is, let see this. This is the brand that makes a coffee product with the highest caffeine content.
Every stick of Death Wish Instant Coffee contains a blend of Arabica and Robusta beans that roasted through a unique process. The main goal of this coffee is to provide you the highest caffeine but still smooth and never bitter taste.
Interested in Death Wish's fact? Check out our full review here, or just buy it directly on the marketplace (the price tag is about $15).
Jacobs Kronung Coffee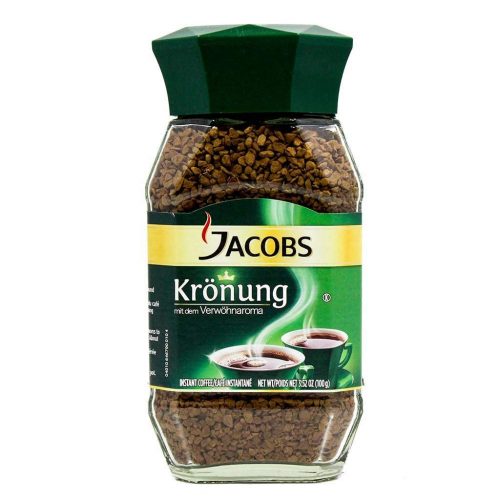 Jacob's Kronung is another German brand that made it onto our review list. This instant mix is 100% ground and dried, creating a rich, creamy mix of flavors to decorate your cups.
This coffee is an excellent choice for someone looking for a high quality instant coffee on a tight budget. This product sells for around $ 62 for a 6-fill pack (200 Gram jar).
Joe Coffee Specialty Packets, The Daily House Blend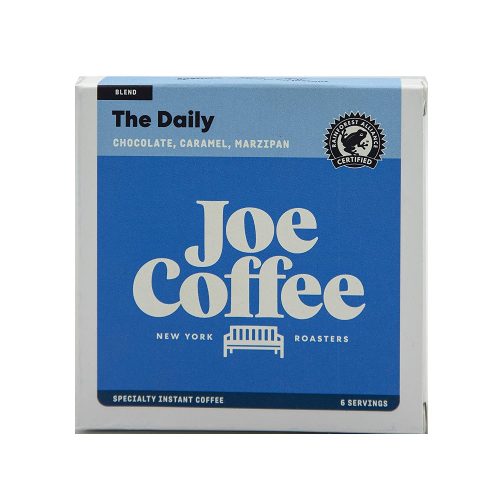 Joe Coffee has been established in New York since 2003. This mixture generally uses coffee beans from South and Central America. Each product is processed in small quantities, resulting in a complex and delicate flavor profile.
Good taste always goes with the price, as the packet of 6 servings per Box of Joe Coffee sells for around $ 20. But the price is well worth the taste so good.
Vietnam Trung Nguyen G7 Instant Coffee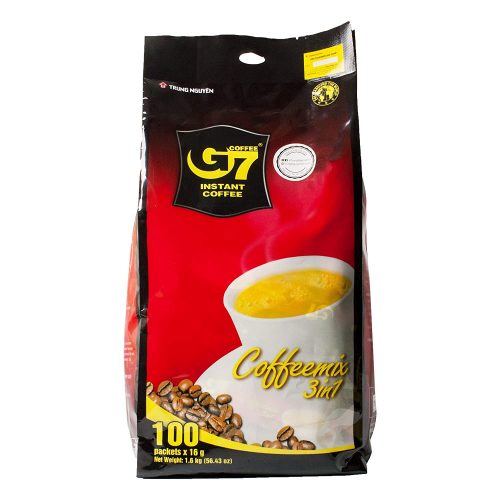 This Vietnamese coffee is one of the most popular instant coffees in Southeast Asia. The G7 uses a different method than we are used to. They have a special "patented dry roasting process" which is probably the secret recipe.
This powder is made from a combination of beans from Jamaica, Brazil, Ethiopia, and Vietnam to create a flavorful and aromatic cup of coffee. It's also 3-in-1 (coffee, creamer, and sugar mixed) which makes your life simpler.
Overall, it's an excellent choice at $ 30, perfect for those of you who like simplicity on the go.
Starbucks Via Instant Italian Roast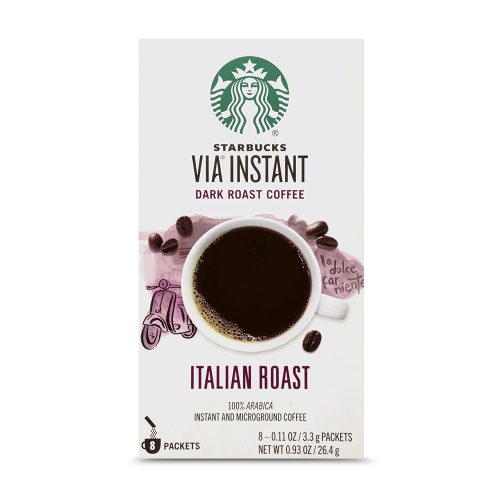 This VIA instant coffee is made from high quality arabica coffee beans, which provides a smooth and balanced taste. The dark roast in this instant coffee is made to create a very tasty drink with sweet notes and intensity.
This Starbucks product contains relatively high caffeine, around 130-140 mg per serving. Finally, with a price tag of $ 5 for each box of 8 packs, this VIA instant coffee can do a lot of good for your cup of joe.
Instant Coffee vs Regular Coffee
Instant coffee and regular coffee have their respective advantages and we cannot fault your choice. To be honest, it's hard to replace the taste and sensation of freshly ground and brewed coffee. However, the convenience factor that instant coffee has for those of you who like traveling is also hard to beat.
Therefore, people often look for an alternative comparison aspect, namely the taste of the coffee. But in fact, many instant coffees use robusta beans to replace the lower caffeine content. This means that the strength and taste of regular coffee can ultimately be rivaled.