Hawaii always offers fun and enjoyment to everyone. Apart from stunning beaches, coffee is the archipelago's main asset. Have you ever tried Hawaiian coffee? it is said that the taste is very special, different from common coffee that comes from other places.
To answer your curiosity, we will discuss it and summarize some of the best Hawaiian coffee brands that you can try. Keep reading until the end.
Hawaiian Coffee or Kona Coffee?
Hawaii is the only state in the United States that grows coffee beans commercially. There are at least 700 coffee farms spread in Hawaii and they are making a lot of profit by selling coffee beans to tourists.
Kona District is the largest growing region of Hawaiian coffee, located on the big island of Hawaii. The coffee beans from this region farm become hype and popular because have a special taste. Since, Kona district has almost- perfect growing conditions for a few coffee varieties.
Now, Kona coffee has become the mascot for the Hawaiian island plantations, so its name is more popular than the name of the island where it grows.
What is Kona Coffee Anyway?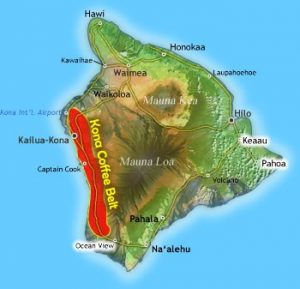 Kona coffee is Hawaiian Arabica coffee cultivated on the slopes of Mauna Loa and Hualalai in the southern and northern districts of the Big Island of Hawaii.
Although many brands label their products as Hawaiian Coffee, only coffee grown and processed in the Kona district can be described and marketed as "Kona".
Kona coffee has become very famous because it has a perfect taste. This is because Kona coffee beans are grown in ideal natural conditions. They are grown on a high elevation with perfect weather for their growth.
The Kona district has fertile and mineral-rich volcanic soil that helps coffee plants thrive. Besides that, the weather is sunny in the morning but when the afternoon is rainy or cloudy with a little wind, it is perfect for coffee plant growth.
A Brief History of Kona coffee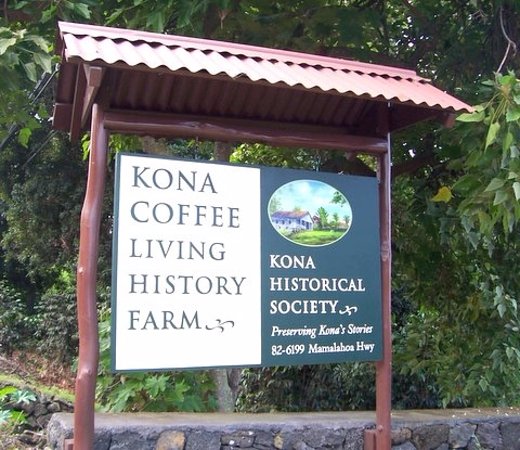 Actually, Coffee isn't native to Hawaii, Its first brought to the Kona district from Brazil in 1828 by Samuel Reverend Ruggles from Brazilian cuttings. The Hawaiian climate and soil proved ideal, so that coffee plant crops flourished.
In the 19th Century, Kona coffee was first established as a recognized brand by English merchant Henry Nicholas Greenwell that moved to the area at that era. Coffee farms become a family tradition and still continued throughout Kona until now time.
In 1997, Kona recorded has total coffee farms area was 2,290 acres (9 km2) and producing green coffee just over two million pounds.
How Does Hawaiian Kona Coffee Taste?
Original Kona coffee has a unique flavor profile and amazing aroma, which is why it is so famous. When you do the right thing with Kona beans, for every cup you serve you can expect to taste brown sugar, honey, milk chocolate, and a hint of a bright fruit flavor.
In general, these coffees describe as bright, crisp, and clean with a pleasant aftertaste. The unique and sweet aroma of caramel, butter, cocoa, or fruit seems to make you never forget them. This combination of the flavor, the aroma, or the aftertaste are made Kona so unique, addictive, and beautiful.
What is the Best Genuine Hawaiian Kona Coffee
On the market there are lots of Hawaiian coffee brands, surely you will have a hard time choosing them unless you are already experienced.
Therefore we summarize the 6 best brands of Hawaiian coffee, and of course, contains 100% original Hawaiian Kona seeds.
Keala's Hawaiian Coffee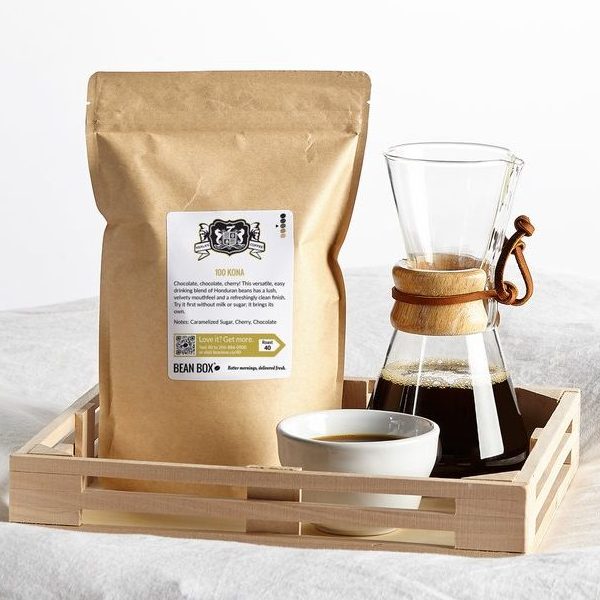 The most important thing to consider from Keala's Hawaiian Coffee is100 percent genuine Kona coffee. The beans used are the extra fancy grade of Kona harvested from the slopes of Holualoa and it isn't blended with any other type of bean.
Keala's Hawaiian Coffee roasted in Seatle with a medium roast, resulting in a nice, silky body that isn't too overpowering and low acidity. Keala's Hawaiian Coffee has a bright and sweet flavor profile, with coconut and passion fruit notes.
If you want to try this coffee, you can get it on the marketplace for around the $36 price tag.
Volcanica Kona Coffee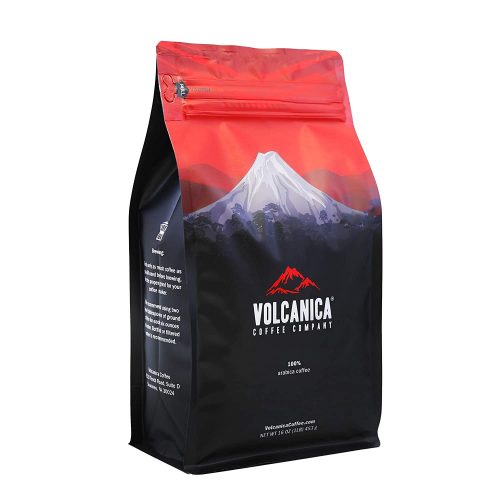 As the name, Volcanica Coffee is authentic 100% Kona Coffee Beans Single Origin from the eruptive terrain of Hawaii's volcanoes, the Greenwell Estate. It has grown and harvested at high altitudes of 1,500 – 2,000 feet. High altitudes deliver an increased amount of oxygen to coffee plants.
Volcanica Coffee offers an experience that entirely unique, with rich flavor, creamy and well-rounded body. It also provides you the versatility, since it can use to create cappuccinos, macchiatos, or piccolo lattes.
If you want to try this coffee, you can get it on the marketplace for around the $120 price tag for 16oz bag.
Hawaii Coffee Company

–

Royal Kona 100% Hawaiian Kona Coffee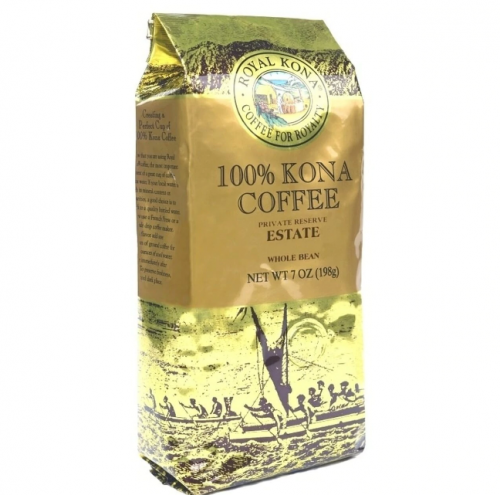 Royal Kona Estate is another extra fancy grade of arabica beans that come directly from the Kona district. This bean only roasts only after you've placed the order to keep the freshness.
It roasts in a medium roast but the taste is more like a light roast that clear and refreshing without any bitterness. The flavor profile is well rounded fruity and a bit earthy notes, without an unpleasant aftertaste.
This brand also belongs to low acid coffee, you can get it on the marketplace for around the $24 price tag for a 7oz bag.
Blue Horse Kona Coffee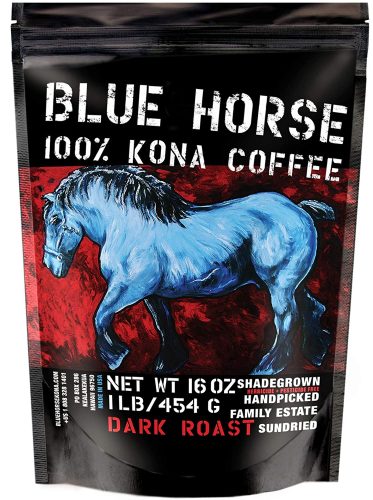 Blue Horse is 100% genuine organic Kona Coffee hand-picked from the shade-grown coffee tree. Their beans are origin from a family farm and freshly roasted directly to you.
The dark roast provides a chocolatey flavor and caramel finish with a nutty aftertaste. This coffee is great for drip coffee or for use in espresso drinks
Overall, with $43 price tag for a one-pound bag, we think Blue Horse is worth buying and try.
Hawaii Roasters
 Award Winning 100% Kona Coffee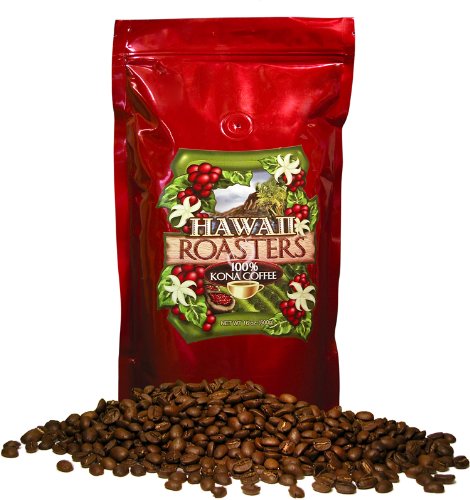 Hawaii Roasters is 100% Original Kona coffee, harvested from a small plantation of family farms. Everything is natural, start from hand-picking until the roasting process is done by the hand of the master roasters. And this has become a tradition for generations.
Only the coffee cherries are at peak of ripeness selected, and then sun-dried and roasted in artisan micro-roasting. This aims to bring out the characteristic flavor and ensure maximum freshness in every coffee bag.
This medium roast that known as a 'full city roast', results in a chestnut brown in color with a mild and delicate coffee. This coffee product also ever be the Winner of Hawaii Governors Export Award and the Winner of New & Innovative Product Award at the world's largest food exhibition in Paris. Check the latest price here.
Koa Coffee – Peaberry Kona Coffee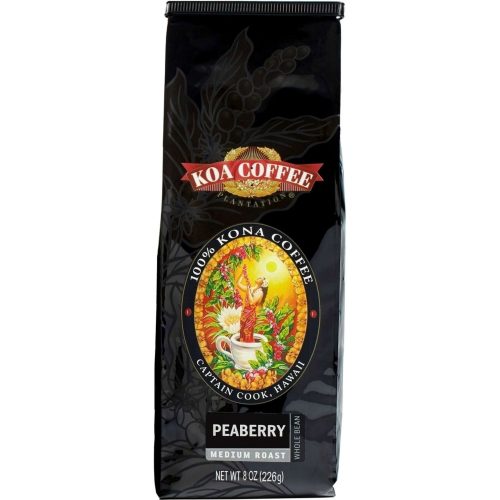 The peaberry is a rare mutation in Kona coffee cherries, which means it also belongs to the genuine Kona coffee. It has a single, oval-shaped bean instead of two flat beans nestled together like other normal beans.
With a light, smooth body and fruity flavor, the Peaberry Kona won't upset your stomach. Peaberries are so rare since Koa Coffee can only produce 3-5 bags of peaberry coffee for every 100 bags of regular coffee!
If you find it in the marketplace, grab it fast! usually for around the $45 price tag for 8oz bag.
Why Hawaii Kona Coffee So Expensive
Hawaiian coffee especially from Kona has a quite expensive price tag. The main reason is that Kona is produced on a small scale, which is a labor-intensive and time-consuming process.
The Kona coffee tree takes three years to start bearing fruit. Meanwhile, the process of growing Kona beans itself lasts up to 12 months until they can be harvested.
Normally each coffee tree only produces about 25 pounds of coffee cherries. After processing, it will only produce about three pounds of coffee beans over the course of a season.
Currently there are only about 700 producers of Kona coffee in Hawaii that supply worldwide. We think you have understood up to this point, the reasons behind the high cost of Kona coffee.
Best Brew Methods For Coffee From Hawaii
Hawaiian coffee has characteristics that other types of coffee do not have. To hold it down to the cup you need the proper brewing method. Then, what method should be used? here's the answer:
Drip (Manual Or Machine)
Based on the roasting characteristics of Hawaiian coffee, this indicates the fact that Hawaiian coffee works well as a drip coffee. Either brewed in an electric dropper or as a pourer will always give the best results.
Brewing through a paper filter on the drip brewing method will treat this coffee at its best. Body balance, acidity, and sweetness and highlight the taste of the coffee will be well preserved.
The French Press
Since this Hawaiian Kona specialty is not too acidic, a French Press would also work well for brewing. Better yet, when using a medium-dark roast, this will give you the optimal French press experience.
Gives you a cup of smooth, round body coffee with a delicious sweet taste. Conversely, if the roast is too light, this coffee will be very light and mild, even potentially acidic.