Espresso machines used to be high-cost investments with thousand-dollar price tags, but over time some espresso machine manufacturers produce several budget espresso machines. Thanks to advancements in technology, now there are many affordable alternatives for everyone.
We wrote reviews for a range of espresso machines that you can buy for less than $200. Despite their low price, they can be relied upon to brew delicious espresso day in and day out.
Best Budget Espresso Machines
We've thoroughly reviewed several easy-to-use espresso machines in the under $ 200 price range. Most of them are manual and semi-automatic espresso machines.
Usually, they come with a simple interface that allows the user to choose whether to take single or double shots. If you are on a budget, you may want to consider the following units.
Hopefully this review can help you choose the right espresso maker on a tight budget.
Mueller Espresso Machine for Nespresso Compatible Capsule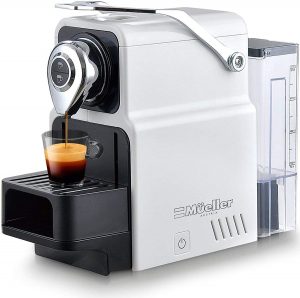 Mueller Espresso Machine is a pretty good option for a budget espresso machine. With a premium Italian High-Pressure Pump and Fast Heating with Energy Saving System, this espresso machine will make your life easier.
This coffee machine was special designed for compatible with the Nespresso capsules. Come with a patented extraction system that delivers up to 20 bar pressure and 24 oz water tank.
With a fast-heating system, the water will reach the ideal temperature in 60 seconds. And energy-saving mode will automatically switch the machine off after 10 minutes.
Apart from designed with one-touch operation, it also has a Programmable Buttons for choosing to brew Espresso or Lungo coffee. That all amazing for a budget espresso machine with about a $60 price tag.
Sowtech Espresso Machine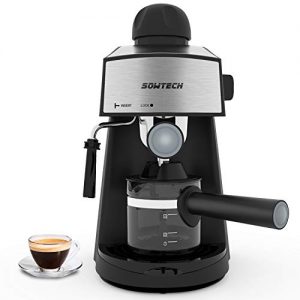 The Sowtech Espresso Machine is made of plastic and stainless steel material with a compact design. This product is smaller and lighter than your usual espresso machine, so it is perfect for small kitchens even for travel.
This product featured with a single knob for all your espresso needs. With the powerful 3.5 bar pressure, you can easily make 1-4 cups of rich, tasty espresso for your ideal morning coffee. It also has a removable and washable drip tray.
You can make that rich-tasting espresso with only 4 easy steps and just a few minutes. It also has a frothing arm to make a foam, you can freely make a creamy froth to top off your cappuccinos and lattes.
YOu can purchase this espresso machine for only about $90, you will get a lifetime warranty, quick refund, or a free replacement.
Mr. Coffee Automatic Dual Shot Espresso System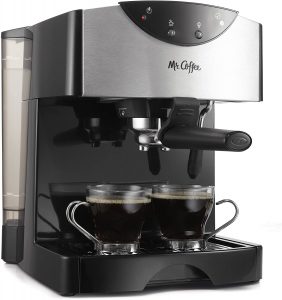 This product is reliable to brew a cup or two of espresso fast. This machine has an attached manual steam wand, lets you froth your own milk to make cappuccinos and lattes.
Despite its come at an affordable price, It features a 15-bar pump and thermal block heating system. This heating system almost instantly brings the water in the removable 40 oz water reservoir up to the necessary temperature.
As the result, it can brew a single shot in 20 seconds and a double in 40 seconds.
Overall, with about a $99.99 price tag, this is a great budget espresso machine if you are new to espresso makers.
De'Longhi EC155 Pump Espresso and Cappuccino Maker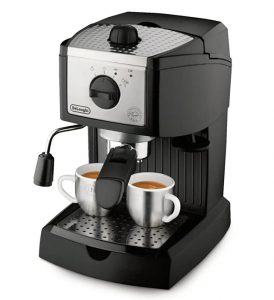 De'Longhi EC155 made of black hard plastic and stainless steel material, a solid espresso machine you can get with a budget. This is a rare espresso machine since it is compatible with pods and grounds to brew coffee.
Despite the compact size, it pump can exert 15 bars of pressure, make it can compete with much larger and more expensive models on the market.
The machine is easy to use, it self-primes on startup at the touch of a button. Make it easier to use than more complicated and more expensive machines. Moreover, the machine also features a removable drip tray and water reservoir, so it is very easy to clean.
Overall, with about a $100 price tag, you will get a machine that comes with a frother, cup warmer, and a basic cup and filter system. This is one of the best budget espresso machines with one year warranty.
De'Longhi ECP3120 Espresso Machine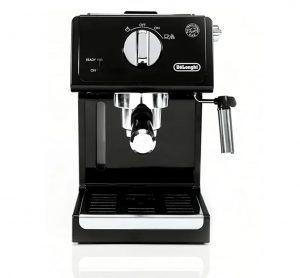 DeLonghi ECP3120 outstands for two things on their espresso machine: Ease-of-use and the wide variety of Nespresso blends to choose from.
This product size is very compact and would not need a lot of space in your kitchen. It also has two Thermo-block heating elements and 19 Bar High-pressure self-priming pumps that perform faster heating and resulting crema on your espresso.
With this machine, you can freely make a cappuccino or latte since it has an advanced One-touch Cappuccino System. And we think this is the best feature of this espresso machine.
Furthermore, this machine also features illuminated buttons, automatic capsule ejection, and cup warming tray.
For all those reasons above, DeLonghi ECP3120 is an excellent choice for a budget espresso maker for those who concern about convenience and variety of flavor. You can purchase this machine for about $120 on the marketplace.
Barsetto Coffee & Espresso Machine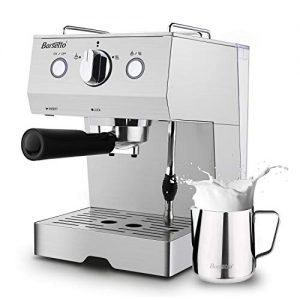 This machine has a small size and lightweight, we think this is the best portable espresso maker. Its detachable design makes it easy to use, carrying, and also cleaning.
With 15 Bar high-pressure Barsetto Espresso & Coffee Machine would extract coffee oil and creates layered, rich-tasting espresso anywhere you want. Moreover, It's also compatible with K-Cups and coffee capsules.
Overall, we highly recommend this budget espresso machine for frequent travelers or anyone who wants to make a consistent, high-quality espresso. If you interest to buy this machine, the price tag is $130 on marketplaces (include two years warranty).
illy Y3.2 Espresso and Coffee Machine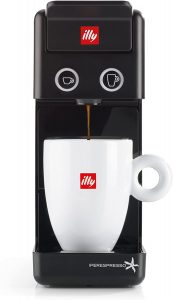 The last pick of budget espresso machine we recommend is illy Y3.2. This machine easy-to-use, practical, and aesthetically appealing espresso machine.
Made of high-quality plastic material, this machine has a wide array of color options (White, Black, Red, Cape Town Blue). With a small footprint design with only 3.94 inches in width and 10 inches at height, the machine looks great in small kitchens even on the table.
Illy iperEspreso has good consistency in pulling real espresso shot with real crema. It also has an adjustable cup sizes feature, that is a plus point for this machine.
Despite Illy Y3.2 a bit pricey for the $150 price tag, it is a wonderful espresso maker that proper to purchase if you are able to spend a more budget.
What to Look for in a Budget Espresso Machine
Coffee makers are present in the market with various brewing strategies and features. However, when it comes to espresso makers, it will be different. Brewing espresso relies on high-pressure hot water.
If you're on a budget, you'll need to be willing to give up some cool coffee maker features and focus on getting basic espresso brewing. Here are a few things to consider.
Bars of Pressure
Espresso machines definitely have a pressure pump, but the resulting pressure varies from machine to machine. In this case, the experts agree that the ideal pressure to make the perfect cup of espresso is nine bars. There are many machines on the market that have a higher pressure, this is fine as long as you like the taste of the espresso produced. Usually, a high-pressure machine will produce an espresso with a soft crema.
Single or Double Shot
If you are going to use the espresso machine for your morning ritual and you rarely serve it to guests, choose a single-shot machine. Conversely, if you frequently serve espresso to your friends or guests, a double-shot machine will shorten your time.
Milk Frother
While this isn't the main focus in a budget espresso machine, having a milk frother is a plus worth considering. The milk frother feature will expand the types of coffee drinks you can produce, but of course, it will become a part that you have to care for and clean later.
Size of Machine
Some machines are large enough to fit on your countertop. This is great as long as you have a large amount of space in your kitchen. But, it doesn't make sense if you have limited kitchen space or want to take your espresso machine with you on the go. The small size espresso machine with a compact design is always suitable for small space kitchens and easy to carry when traveling or camping.
Ease of use
When you're buying on a budget, typically you look for an espresso machine that is pretty simple to use. Make sure your machine just has a pretty basic button for straightforward operation. So that operating your machine is a straightforward job.
Ease of cleaning
The thing that makes your coffee delicious is that you keep the coffee machine clean. Make sure to look for an espresso machine that has a solid, compact design that is easy to clean.
Price
The main reason you buy a budget espresso machine is that you don't want to spend a fortune. When buying the best cheap espresso machine on the market, consider the price. Make sure you get the value you deserve.
The Conclusion
Finally, you know how to choose the best budget espresso machine. In fact, choosing the right machine is a matter of personal preference. But for beginners, it's still a little confusing to decide. Especially if you want to improve your coffee-making skills, of course, you need the right model.
We hope this review was of help to you, and we wish you the luck of finding the right espresso machine for your budget.