Before talking further about latte coffee maker, we'd better tell you what a latte actually is. because we are sure not all readers of this article already know what a coffee latte actually is.
Caffe latte (or simply latte) itself is a coffee drink made with a combination of espresso and steamed milk.
The name "latte" comes from the Italian word caffè latte, which means "coffee milk". However, if you walk into any cafe in Italy and ask for a latte, you will be given a glass of milk. In Italy, you have to specifically ask for the caffè latte to get the coffee latte that you're looking for.
To make the perfect Latte is not easy. You have to pair it with the softness of rich espresso, steamed milk, and microfoam.
Technically, a latte usually consists of one shot of espresso, eight to ten ounces of milk, and a layer of foam up to three-quarters of an inch on top. That precision makes brewing latte and even cappuccino sound scary.
The existence of a latte coffee maker is very helpful for coffee makers. This machine has the ability to brew espresso and froth with ease.
Luckily, latte machines exist. These coffee makers have the ability to both brew espresso and froth milk (which means it can also brew other espresso-based drinks like cappuccinos and macchiatos).
Espresso Machine Vs Latte Coffee Machine
The main factor that differentiates a latte from espresso is the added steamed milk which gives rise to froth.
A latte will have cream with a very soft espresso flavor. Meanwhile, Espresso has a stronger and richer taste because it is a direct coffee concentrate.
If a latte can be said is just a glass of espresso mixed with frothy milk. Then don't you just need an espresso machine to make a latte?
You can actually use a basic home espresso machine that has a built-in milk frother for making lattes. Or, if your espresso machine doesn't have a built-in froth system, you can buy a handheld version of the milk frother, which is inexpensive.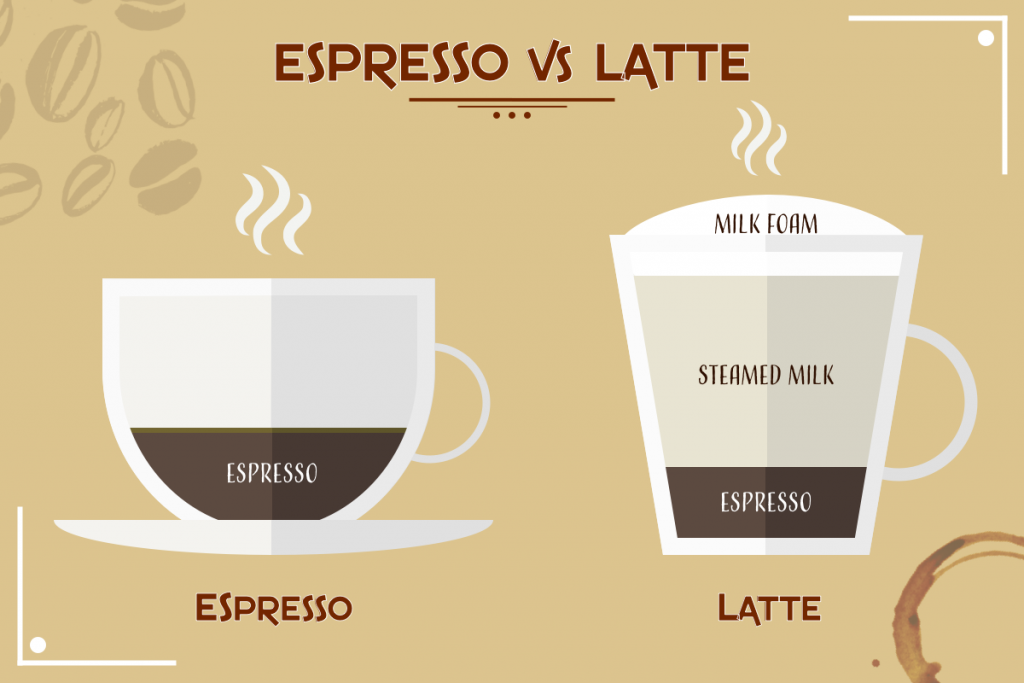 Top Picks For The Best Latte Maker Machine
To find our favorite latte coffee machine, we evaluated a variety of popular brands and highly rated models that use ground coffee or coffee beans to brew espresso and have built-in foam.
We evaluated it from various aspects such as ease of use and cleaning, consistency, taste, and crispness.
We also tested their speed at heating, brewing, and foaming. Our picks for the best latte coffee machines to buy are as follows:
DeLonghi Nespresso Lattissima Pro Espresso Machine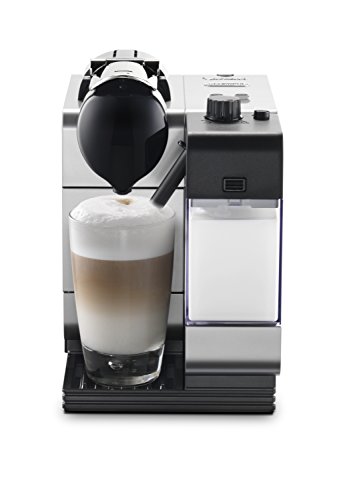 This machine has an espresso extraction system that is able to create a flow of water with a pressure of up to 19 bar. This is the ideal pressure to produce quality espresso and coffee drinks.
Since the Original Nespresso Lattissima Plus Espresso Machine by De'longhi is from Nespresso, this Machine is only compatible with Nespresso Original capsules.
However, you should know that Nespresso is great at ensuring the freshness and natural taste of your coffee grounds in each capsule.
With the De'Longhi milk tank, you can adjust the distribution of milk during the extraction process which ensures the taste of every cup of coffee latte it produces.
For the heating system, this machine uses a thermoblock heating system that works in seconds, very fast.
All that convenience feels complete with one-touch technology. This latte machine does its best and you just wait for the results.
Pros
This machine is very compact and easily fits in most kitchen cabinets
Has a removable milk tank that is easy to clean
It is easy to operate and produces a great coffee taste
Cons
On / Off button that must be pressed directly in order to function
The sound is quite noisy when brewing, sounds like the sound of a blender
Mr. Coffee Cafe Latte Maker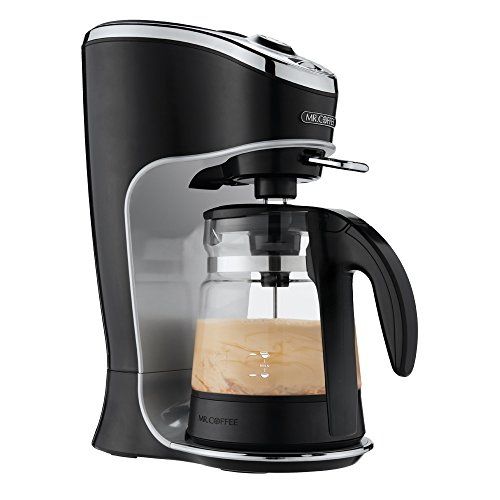 With just one touch of a button, you will be able to make a delicious latte with Mr. Coffee Cafe Latte Maker.
Its small shape makes this latte machine very simple and quick to clean. You can wipe it with a cloth or sponge and pour the remaining liquid into the reservoir.
In addition to making lattes, through this machine you can also make hot chocolate. You just need to change the selector between the heat and froth functions.
Pros
Makes a latte so fast with minimal effort and preparation
You can choose to get a restaurant-quality latte or a delicious hot choco
Has a recipe booklet included
Cons
The carafe is not dishwasher safe, it can only be cleaned with a damp cloth or sponge
Mr. Coffee Café Barista Espresso and Cappucino Maker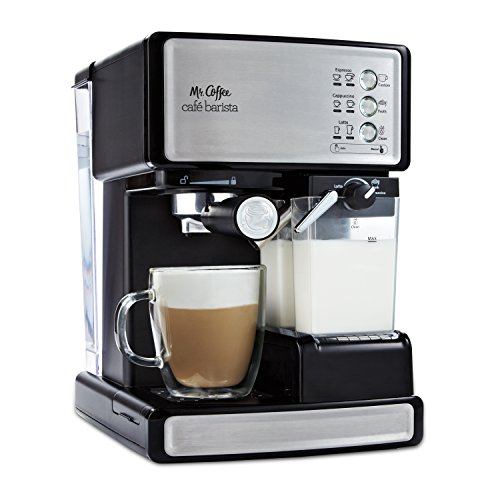 This 3-in-1 coffee maker is a great machine because it has a 15-bar pressure pump. That means meeting the minimum requirements to make a rich and flavorful espresso.
Apart from having a removable and easy cleaning container for water and milk, this machine is also easy to operate.
You just select a single shot filter or double shot filter, then add it with coffee grounds and feed it into the system. Then, Refill the milk tank and through one-touch control choose whether you want to make a cappuccino, latte, or espresso.
You can trust the performance of the automatic milk frother to do the best for your latte.
Pros
A multi-function machine that can make delicious cappuccinos, espresso and lattes
Heats water very quickly
Works well and can be trusted
Easy to clean
Cons
Build quality seem to have been a little poorly made
A little bit noisy and slow brewing process
Breville Barista Express Espresso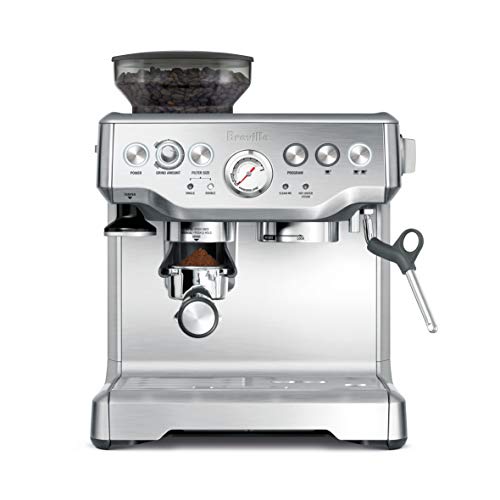 This latte machine is very reliable for making espresso in very fast time, less than a minute. You can also change the setting between making coffee or espresso with a simple control button.
This machine has a dosing grinder model as well as a cone grinder model which is highly efficient and consistent in producing your espresso or latte.
Digital temperature control (PID) ensures a constant temperature during the optimal coffee extraction process.
Pros
Have very simple dedicated buttons and controls
Have a built-in PID are reliable and pressure gauge
Cons
In fact, the grinder is primarily designed for espresso, not for latte
Mr. Coffee Automatic Dual Shot Espresso/Cappuccino System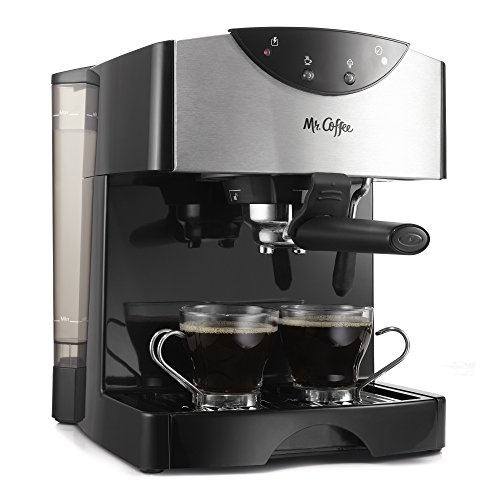 This machine has a thermal block heating system and a 15-bar pressure pump. So that this latte machine is capable of making rich espresso with thick crema.
If you want a cup of latte, the frother system will give your milk-based coffee a creamy finish. For single or double shot serving options, you can use single or dual portafilter.
The machine has a 40oz capacity water tank that is removable and easy to clean. Apart from that, it also has a drip tray that can be washed and removed.
Pros
This is a coffee maker with 3-in-1 functions – espresso, cappuccino and latte
Shorter warm-up waiting time
Has a LED light Indicator indicating its current status and action
Cons
Inconsistent coffee quality after being used for some time
How To Choose The Best Coffee Machine For Latte
Indeed, we have rounded up some of the best latte machine variants. However, we are sure that you are still confused and don't know how to choose which one is right for you.
For that reason, we have a few tips here that will help you easily narrow down your choices:
Milk Frothers & Brew Settings

Since you are going to be making a latte, the main thing that you should consider is about froth. The built-in froth is a plus for latte makers as it will make it easier for you to steam milk and add art to your latte.
It's also important to take a closer look at the frothing wand or steam wand for better art results.
Price, Ease of Use & Convenience
We realize that some of the users that reading this post are beginners who have very little knowledge of latte coffee makers. For them, being able to adapt to a new machine like this required ease of use as well as very accessible controls.
The price of a machine is also a consideration that needs to be considered so that beginners do not hesitate to buy it.
Customization & Automatic Controls
This also depends on your preferences. Do you want a more straightforward operation? Or do you want to make experimentation of the variants like brew time, coffee grounds, and temperature?
There is still a lot more to consider, especially if you have zero know-how with lattes. Here is a YouTube video with a good explanation on how to make a latte and what are the things needed
Which is The Best Latte Machine?
After going through difficult comparisons, we decided to choose the DeLonghi Nespresso Lattissima Pro Espresso Machine as the best latte machine.
Apart from having a 19-bar pressure pump, the machine is very compact and easy to operate. Nespresso also has a very strong commitment to ensuring the freshness and natural taste of its coffee grounds.
Our picks are among the best in quality lattes produced, value for money, and ease of use. Maybe your choice is different from ours, if so please let us know by leaving your comments below!