Everyone has different drink preferences, or you may even like to switch styles so you don't get bored. The dual coffee maker is a smart solution that can be a true lifesaver.
This dual coffee machine allows you to brew coffee in many ways but using only one machine. This certainly provides security and makes your life easier.
However, there are a wide variety of coffee makers on the market, ranging in price from low to expensive. For that, we will summarize some of the best models for you to choose, of course, those that fit your budget.
How To Choose The Dual Coffee Maker
Before you read double-budget coffee maker summaries and reviews, first understand what you really need. They have different features, and the main advantage of dual coffee makers is convenience. Make sure you get what you are looking for, keep reading!
Deciding The Type Of Dual Coffee Brewer
The name 'dual coffee maker' reflects the dual function of a coffee machine, whereby it can brew two different types of coffee or two different portions of coffee.
When deciding which model of the dual coffee maker to buy,
It is important to adjust how you usually make your drinks. For example, you prefer to make espresso coffee or you often serve large portions of coffee like in a pot to drink with the crowd.
K-Cups Vs Ground Coffee
Some dual coffee maker models support the use of ground coffee for both brewing methods, while others rely on the K-Cup. Using the K-Cup wins speed and practicality but is not environmentally friendly.
In this case, we recommend buying a Keurig or reusable filter pod. Apart from getting speed and practicality, you also get good quality coffee but are still environmentally friendly.
Thermal Vs Glass Carafe
So predictable, we highly recommend thermals. In addition to being more rust resistant than glass, the thermal carafe will keep your coffee stay hot longer.
But if these two reasons are not a problem for you, then a glass carafe is not a bad choice. Fortunately, some coffee makers have provided both. Keep reading and find out what your options are.
How Much Space Do You Have?
For some, the dimensions of this dual coffee machine mean nothing. but for those who don't have a lot of space, the dimension will be a thing that counts.
In theory, dual coffee makers have two machines in one function, which means they save space. However, some models have large bodies.
Please learn the specifications of the coffee machine of your choice before buying it, be sure to check its dimensions.
The Best Dual Coffee Maker: The Reviews
Hamilton Beach 49976 FlexBrew Dual Brew Coffee Maker ($99.00)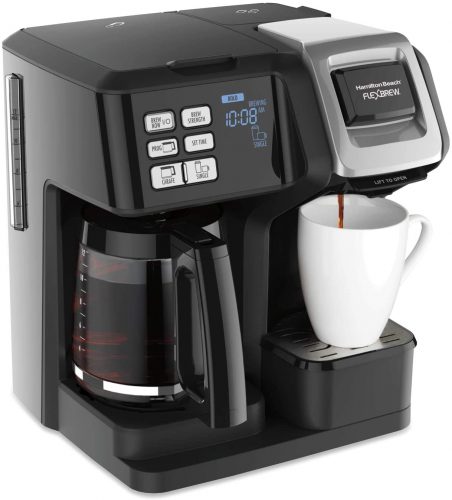 FlexBrew allows you to brew up to 12 cups on the carafe and one serving on the other. This is a great reason to make it the most popular dual coffee maker.
You are free to use K-cups, pods, or ground coffee, as they have both a pod holder and single-serve grounds basket. In addition, it has two separate water reservoirs which are easy to fill and control the water level.
Overall, this is a great dual coffee machine with all the conveniences it has. Even though the performance is a little slow and the dimensions are slightly bigger, the features it has will not disappoint you.
Keurig K-Duo Dual Brew Coffee Maker ($199.99)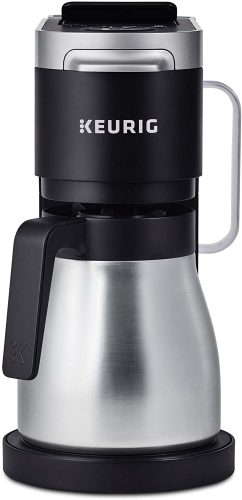 Keurig also took part in the market for dual coffee machines, which are becoming increasingly popular. One of the best models is the Keurig K-Duo Plus, this is a godsend for those who have very little space in their kitchen.
With less than 8 inches of bees and a 60 oz multi-position water reservoir, it's easy to adapt to your kitchen layout. This water reservoir is equipped with a Keurig Water filter, which will maintain its water quality.
This compact dual coffee maker is very convenient to use for brewing full size of the carafe as well as single cups. Because it is equipped with a gold mesh filter to accommodate your coffee grounds. As for brewing one serving of coffee, you are also free to use K-Cups or Keurig reusable filters.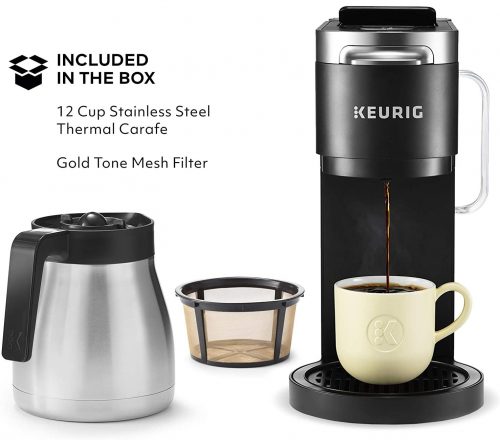 In addition, the capacity of the thermal carafe is 12 cups and can keep your coffee hot for up to 2 hours. The pause & pour function allows you to enjoy a cup of coffee by pausing the coffee maker in the middle of the brew for 20 seconds, the carafe will automatically be poured.
You can program your coffee maker to brew automatically up to 24 hours in advance. And you are allowed to choose the coffee strength through the comprehensive interface on the topside.
Cuisinart SS-20 Coffee Center With Thermal Carafe ($229.95)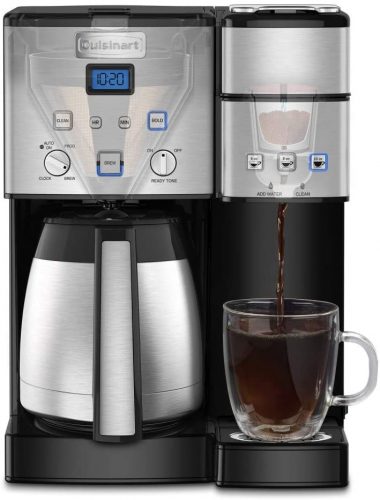 The Cuisinart SS-20 Coffee Center features an automatic thermal coffee maker on one side and a single-serving on the other. This product comes with a 3-year warranty.
This machine is K-Cup pod compatible and lets you use your own ground coffee because it comes with Cuisinart's HomeBarista Reusable Filter Cup. The 40 oz water reservoir with a charcoal water filter and the drip tray is removable, lets you access and clean them.
Its 10-cup stainless steel thermal carafe is fully automatic and programmable up to 24-hours in advance.
Ninja Hot and Cold CP307 Dual Brew Coffee Maker ()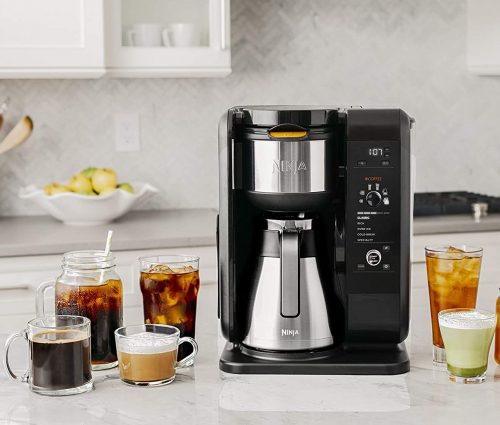 This machine has let you brew coffee and tea both hot and cold. It has smart basket recognition that will recognize the basket then automatically displays coffee or tea drink options.
This coffee maker has 6 brew sizes start from a single cup until full carafe that you can brew in 5 brew styles. You are allowed to choose your strength range from classic, rich, over ice, cold brew, or specialty.
Furthermore, it also has a thermal carafe with 50 Ounces (10 cups) of capacity. It will help you keep your coffee and tea hot for up to 2 hours.
De'Longhi BCO430BM – Best Espresso Dual Coffee Maker ($429.99)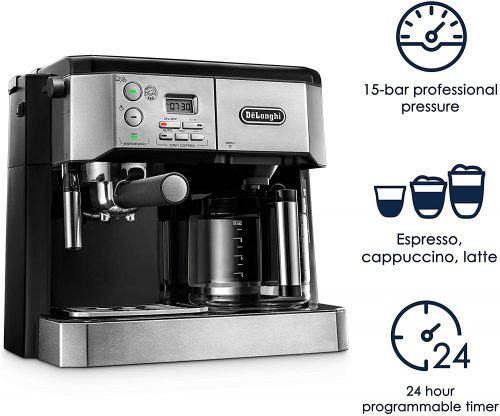 De'Longhi BCO430BM is a front-loading coffee maker with an input power of 1500 Watt. This is an excellent dual coffee maker that can brew almost any type of coffee drink. Starting from espresso, drip coffee, and cappuccinos or lattes.
Equipped with a removable water reservoir with a capacity of 40 ounces and a timer that can be programmed up to 24 hours in advance. And its advanced active carbon filter will ensure the water quality in the reservoir is always good.
Overall, this De'Longhi model is an excellent, practical, and comfortable dual coffee maker for a rather high price.
Buying Guide for Dual Coffee Maker
A dual coffee machine is a fairly expensive investment, so you don't want to make a mistake the first time you buy it. Some of the main features such as cup capacity or power input usually already included in the product specifications. But we're going to take this further so you can define what string you are looking for.
Vertical Height
Everyone certainly wants the kitchen equipment they will buy in accordance with the decorative theme of their kitchen. Above we talked a little about the dimensions of this dual coffee maker.
Now we will be more specific about the height of the device, it has to do with the aesthetic that many people are worried about. If you plan to store it in a closet, you should pay attention to its width and weight.
On the other hand, if you want to store it in wall storage when not in use, then you have to pay attention to its vertical height to fit under the shelf.
Functionality
At this point, we are not talking about how many features your coffee maker has. However, we are looking for a dual coffee maker that provides comfort and puts functionality first.
It would be more convenient if you buy a dual coffee maker which has simple operation instructions and buttons. For example, it has a large digital display and marked buttons.
Flavors And Variants
Some dual coffee makers have compatibility with K-cups and pods that is not limited to their brand name alone. However, it cannot be denied that the number of models that are only compatible with their brands is greater.
That's why they designed the K-cup and pod to suit their own device. Some brands (usually famous brands) certainly have hundreds of coffee flavors. But for some brands, there are only two or three variants.
Then what do we need to do? The answer is we need to do a trial run. To avoid frustration you should first try the flavors from as many variants as possible. This will help you determine which brand has your favorite flavor.
After that, you need to make sure the coffee machine you buy supports the brand that has your favorite flavor variant. You will also need to check multiple stores or marketplaces to make sure a brand that fits your machine is easily available.
Maintenance
Costly damage can be avoided if you regularly clean and maintain your machine. Your preference for the Coffee filter type is likely to get some attention.
If you prefer to use a paper filter it does taste healthier, but it will weaken some of the flavors of your coffee a bit and leave a bit of a mess. Conversely, if you like metal filters, they will be easier to clean.
If you are careful, you can choose a dual coffee maker that has a two-filter system. Some of them have reusable filters. And even better, you can choose a coffee maker that cleans itself after use, of course, you have to prepare more funds.