For those of you who are looking for the best Nespresso machine for your coffee counter, keep reading this post. The products from this brand will give you the quality of built and feature that delivers a great taste of your beverages.
Compared to other coffee makers, many people would agree that Nespresso is the king of capsule machines. There are many options you can choose according to your drinking style. We'll help you to pick the right one for you with this guide.
Choosing the Best Nespresso Machine
All the products from Nespresso use pods or capsules to make the drinks. That won't give you a chance to control the production process of the coffee. However, you will see the difference in the quality of each machine.
As a result, we've already reviewed the products according to their look, feel, features, and taste. The design quality is the first one to see. You need to make sure that the machine can handle your daily usage.
Then, how is the quality of coffee that each machine has to offer? The measurement of the taste has also already reviewed. We'll also provide the upsides and downsides of the products. So, it can be an aspect of your consideration before buying.
1. Best Nespresso Machine: Nespresso Vertuo Plus
This first product we'd like to let you know is the Vertuo Plus model. This machine is perfect for you who like a long drink of coffee.
Also, this Nespresso machine makes a great taste of black espresso with thick crema on it. This machine features a water tank that can handle up 1.7 liters. However, you won't get a milk frother as part of the built-ins. You can only get it from other lines of this brand.
The range of coffees for the Vertuo machine is delicious and aromatic too. It's got a Centrifusion technology to maximize the taste of your coffee.
The sleek and self-contained design of this machine comes with the best build quality that Nespresso has to offer. The water tank is quite flexible. You can mount it to the spot you want among three locations available.
The pods are a little bit different than the previous model but they still have the original's premium fill. As a result, you can't use the original pods of Nespresso in this Vertuo Plus model.
Key Features
Water Tank for Up to 1.7-liter
Coffee Dispensing use Barcode
Recycle Pod quality
Adjustable Drip Tray
Centrifusion Technology
Pros
Full cup or mug of Coffee
Simple to use
Great build quality and robust
Cons
More expensive Pods needed
2. Best Nespresso Machine: Nespresso Barista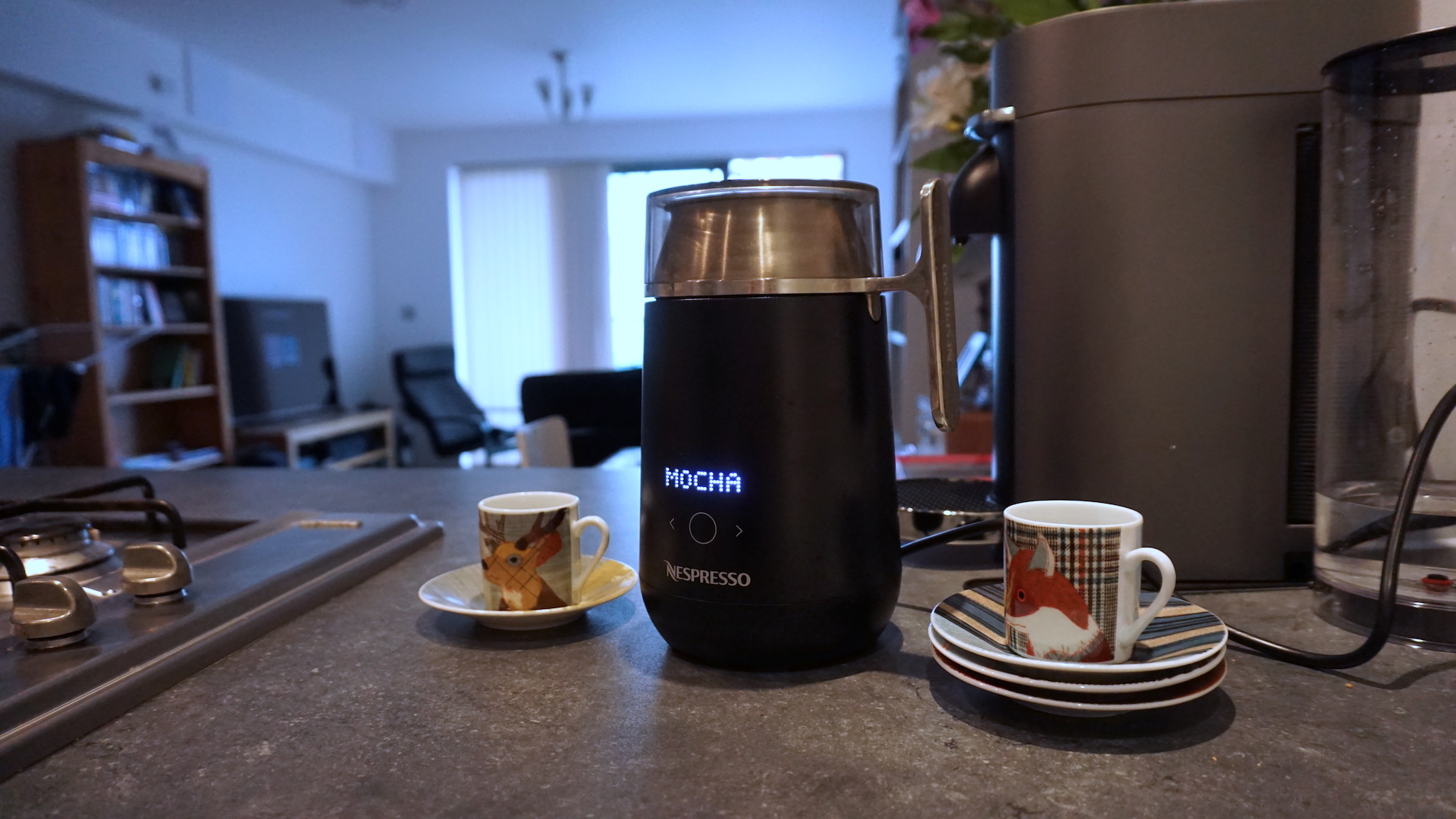 This compact machine allows you to make various drinks by simply pushing a button. This one is different from other coffee makers of Nespresso. It's designed to work with an espresso that you make using other machines like Vertuo and the Original one.
After you get the espresso, you can create some hot or cold drinks automatically using this machine. Combine the espresso with milk and cream and push the button. You can make some cappuccinos or iced nitro right away.
The Nespresso Barista has some outstanding features you need to consider. It's got a built-in heater and whisk. Making a drink would be easy by following the recipes that are easy to follow. To make iced nitro, you can use a shot of espresso, water, and ice. The machine will make it frothy.
What about cappuccino? Have no worries. The machine will automatically froth the milk. You can add the recipes you want for up to 13 settings. So, it will only need one touch to create your favorite beverage. It's considered the best Nespresso machine too.
Key Features
App Control via Bluetooth
Built-in Tools, Whisk, Jug, and Spoon
21 recipes included
Pros
Excellent Recipes Selection
Simple Operation
No Need of Nespresso Machine to make a drink
Cons
Lack of control over volume
The fiddly pouring because of the Whisk
3. Best Nespresso Machine: Sage Nespresso Creatista Uno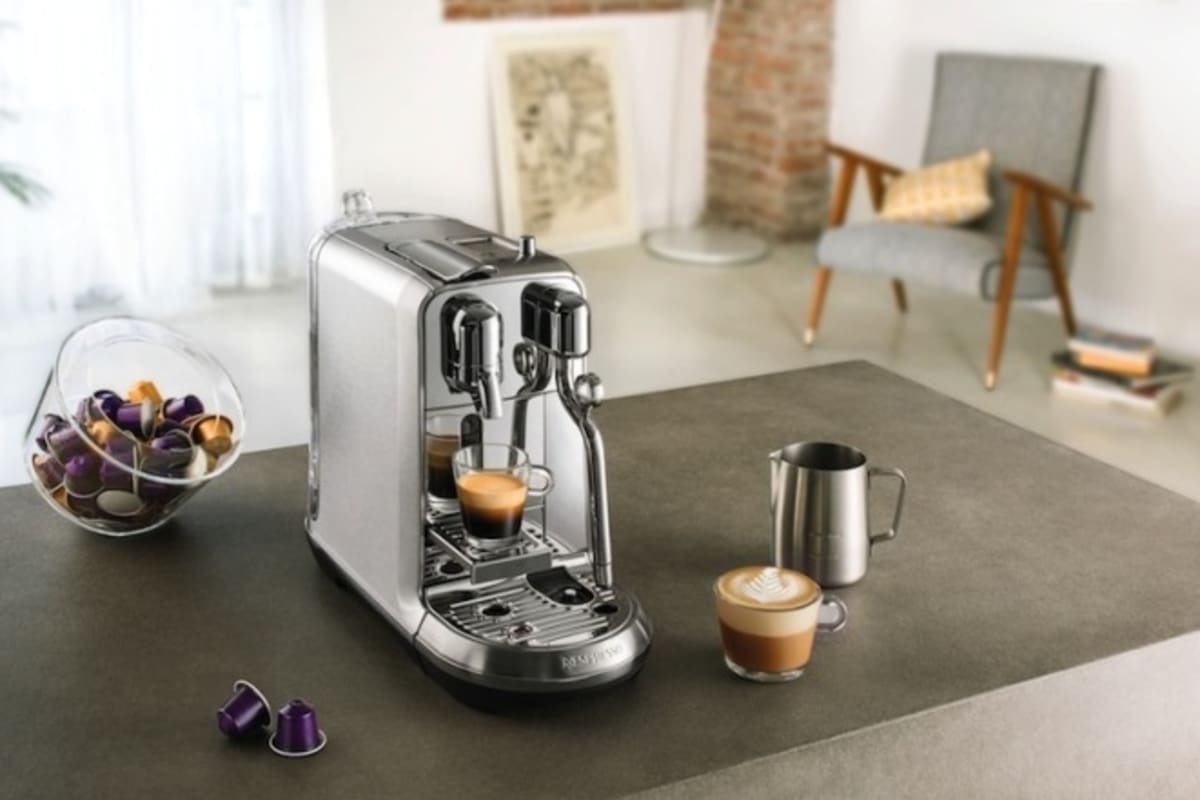 This product is considered as the best Nespresso machine. It allows you to make your favorite drinks just by pouring steamed milk freely. There are many coffee makers available from basic to high-end quality.
Sage Nespresso Creatista Uno is the one that fits into higher-end lines. Besides, this machine is more on the creative side of the market. It comes with an automatic steamer function.
When it comes to design, this machine has everything you expect from a high-end Nespresso product. It's got excellent build quality and looks. There's a simple control on top of the coffee maker.
Using this machine, you can make a beverage easily. Flip the handle up and then drop the pod in. You can choose the capsule you like. After that, you can select whether you want to dispense it manually or automatically.
There are ranges of coffee flavor you can have with this Nespresso machine. The high-quality choices from Nespresso like the originals, dedicated blends, specials, and other options.
Key Features
Simplicity in Making Drinks
Automatic Milk Frother
Water Tank for up to 1.5 liter
Pros
Excellent Build Quality and Looks
Simple controls and easy to operate
The premium quality of Milk frothing
Cons
4. Magimix Nespresso Pixie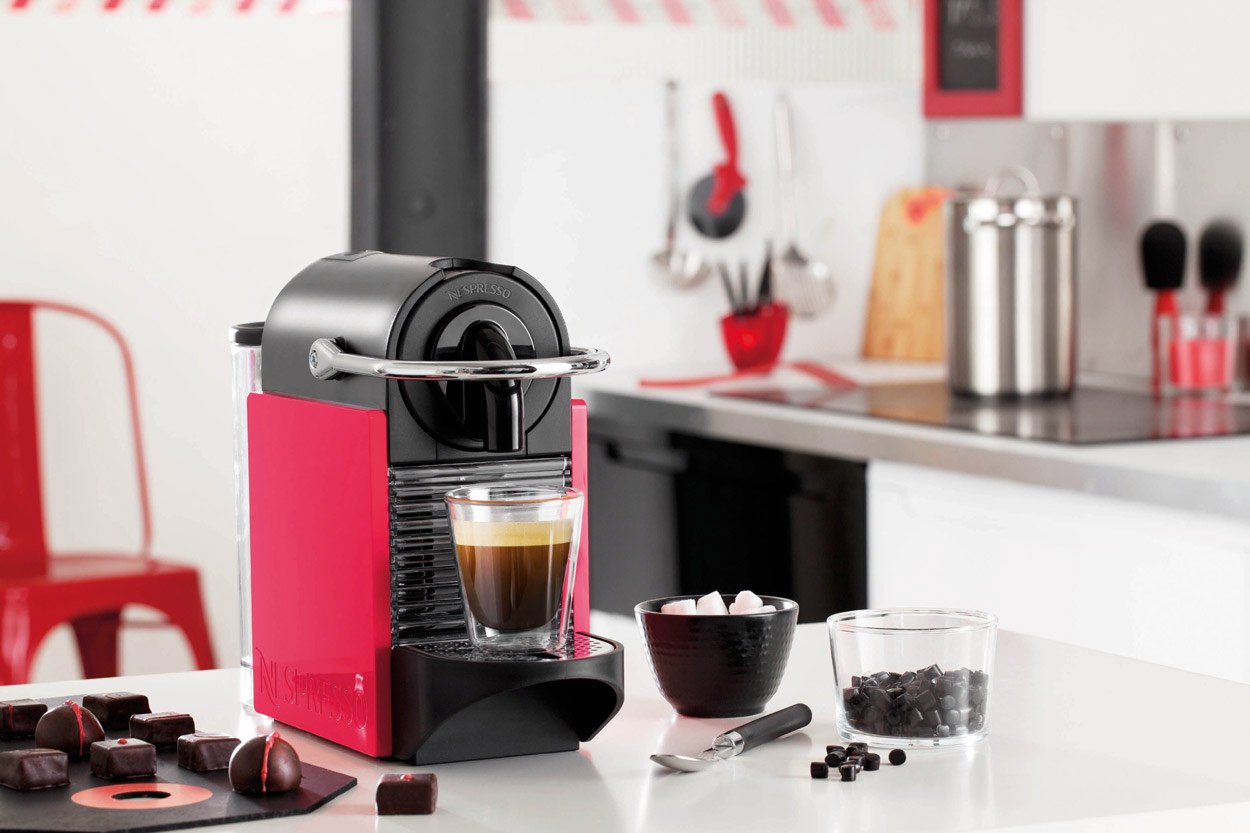 It's like the compact version of the best Nespresso machine. It's great for a kitchen counter that doesn't have a lot of space to incorporate a decent coffee maker.
This machine comes with an exciting feature that allows you to change the appearance easily. Simply replace the glossy ABS side panels with a new color. Alter the aesthetic of your kitchen country instantly.
The interchangeable panels are the reason why this Nespresso product is very popular. As part of the machine you've purchased, you will get two pairs of the panel. However, you can buy more of them with 12 different colors available for only $18 to $38 a pair.
Besides its fun mix-and-match side panels, it also has a solid build to handle your daily coffee making. This machine brews espressos and lungos from the pods with a push of a button. There's a smart eco feature that turns it off automatically after 9 minutes of inactive.
Key Features
Interchangeable side panels
Water tank for up to 800ml
19 bar pump pressure
Pros
Compact size
Secured Water tank
Appealing design
Excellent drink quality
Cons
Can only make espresso and lungos
Basic machine
Limited pods compatibility
5.Nespresso Inissia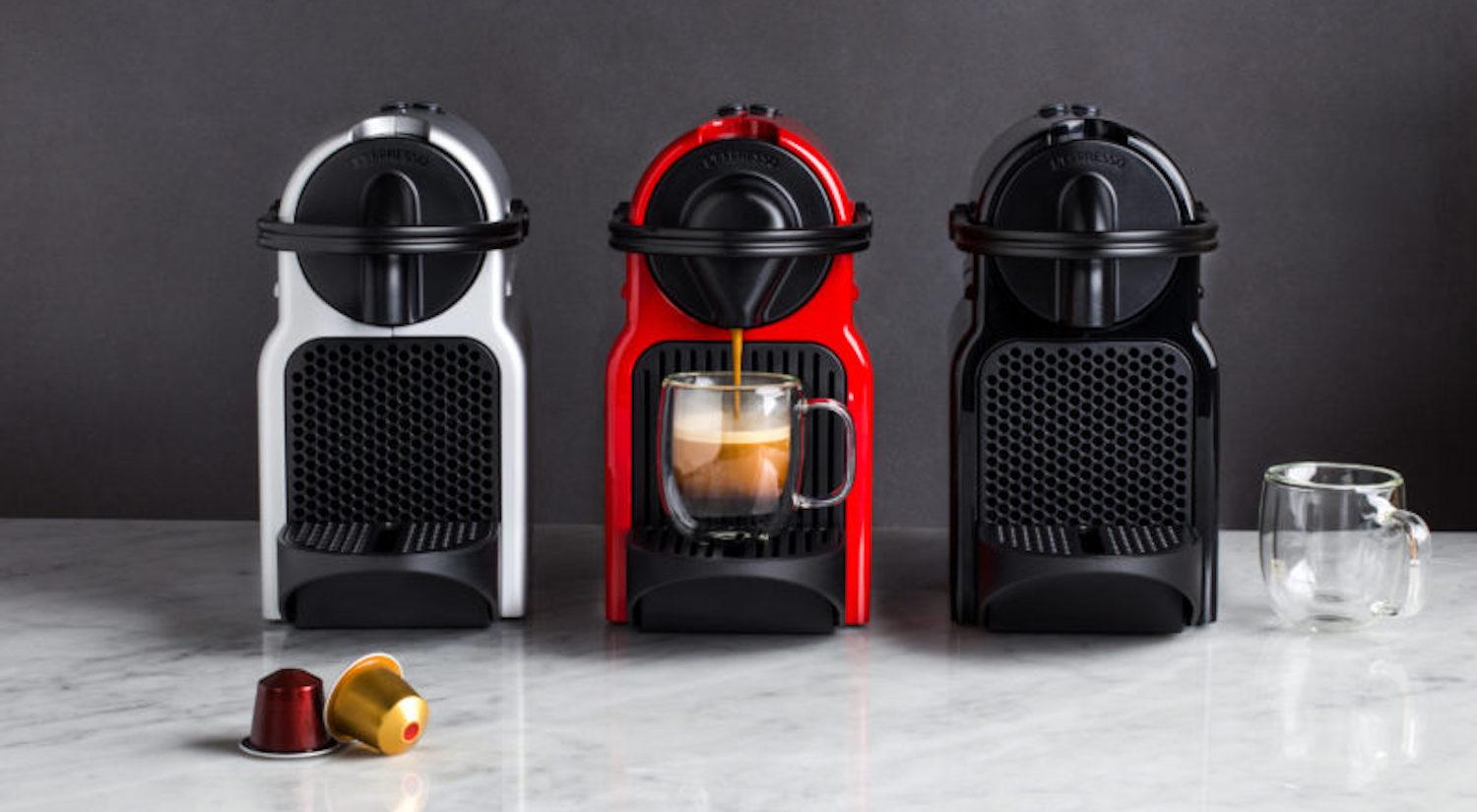 If you're looking for a Nespresso coffee machine because of its portability, you should go with the Inissia espresso machine. When you're not using it, you can just tuck it away in a cabinet or other storage to hide it away.
There's a fold-down handle to move the machine anywhere you want. The 19 bars of pressure allows you to make full-flavored espresso anytime you want. This coffee maker can give you the ability to make Espresso and Lungo.
It's got a water tank to accommodate up to 9 cups of coffee. It's recommended to buy the machine with an Aeroccino 3. So, you can make a milk froth for your drink, hot or cold. In the package, you will get 16 Nespresso pods included.
Physically, this espresso machine is so compact and lightweight. For an entry-level model, this best Nespresso machine has a lot of functionality. There are some colored models available such as Orange, Black, Cream, and Grey.
Key Features
16 Capsules included
Water tank for 700ml
Fold-down handle
Hinged drip tray
Pros
Compact and Lightweight
Easy-fill Water Tank
So portable
Cons
Basic machine
The water tank is very limited
Milk frother needed
The Best Nespresso Machine: Questions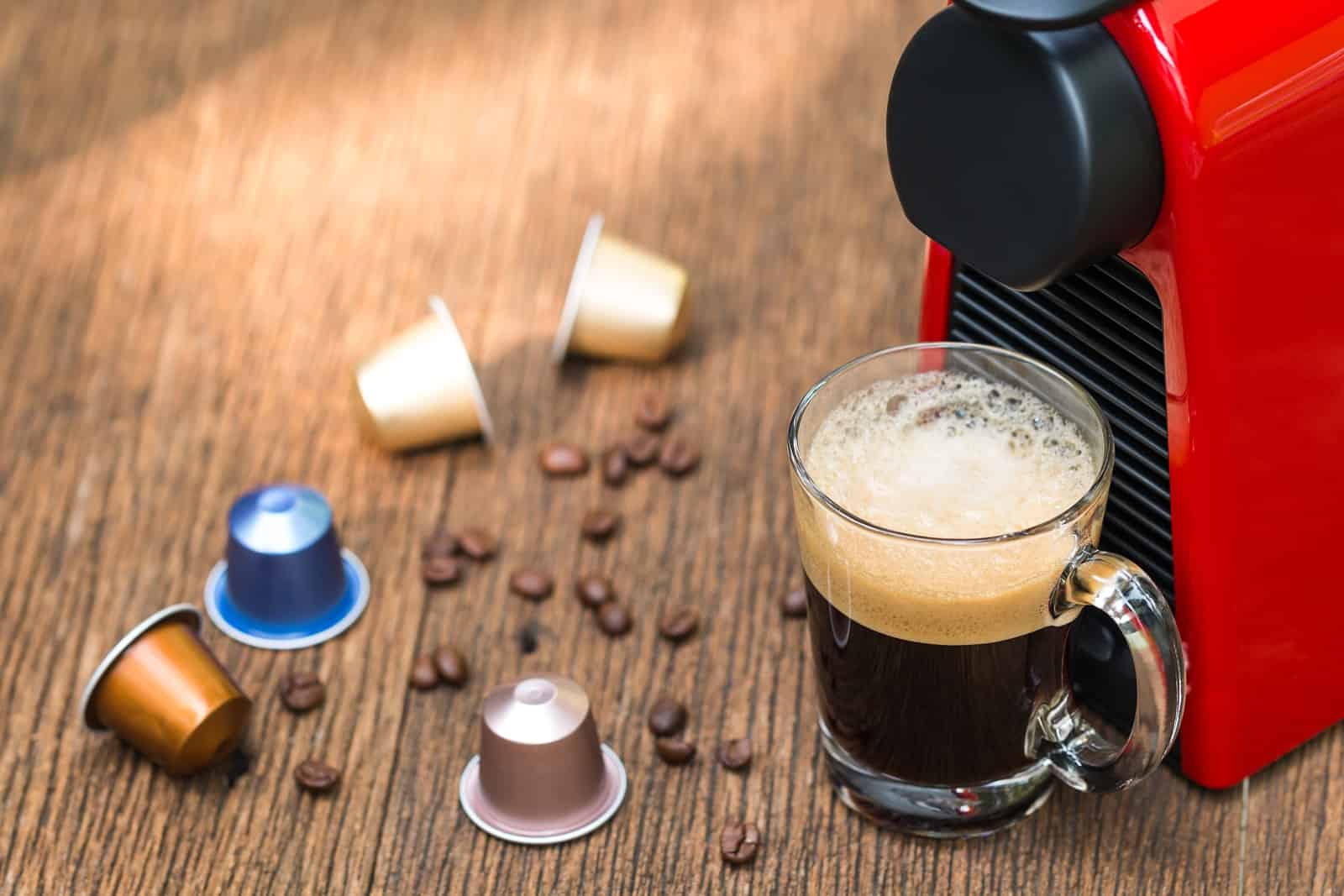 There are some questions needed to be answered before buying the best Nespresso machine for you.
The first question would be what option you should look for in a coffee machine? It's based on their needs. If you don't need the strongest shot, you can just pick the basic ones.
What about the size? Does it matter? If you have space, the bigger machine the better. It will have larger water tanks, and space for capsules.
Do you need additional machines such as milk frother? If you like to drink coffee with milk, you will need an Aeroccino.
However, some machines have built-in milk frother to make sure you get what you want for your coffee and other beverages needs. How about recycling pods? What's great about capsules from Nespresso is that all of them can be recycled.
You can just drop them to a store or post it for free. Just put it into the free recycling bag that's included in the package.
When it comes to finding the best Nespresso machine, it won't be a difficult thing to do. That's because Nespresso has a lot of machines for every need. You can just choose it according to your space, budget, favorite drinks, and personal style.