For those of you who are confused about determining the best K Cup Coffee taste to cheer up your day, keep reading this post. Previously, please note that the "K Cup" is the name of a cup product made by the Keurig brand.
Keurig is a brand of beverage brewing system for home and commercial use. It is manufactured by An American company Keurig Dr Pepper via its east-coast headquarters in Burlington, Massachusetts.
Keurig sells many brewing system models, one of them is the K Cup brewing system. K Cup is perfect for those who want fast and without fuss. There are many variations of taste that you can choose according to your drinking style. Then we will help you choose the right taste for you to try through this article.
Keurig K Cup Brewing Systems
The Keurig K-Cup brewing system is the flagship product of the Keurig company. This system is designed to brew a single cup of coffee, tea, hot chocolate, or other hot drinks.
How Does Keurig Brewing Machine Work?
The machine has a chamber with two nozzles where the K-Cup sits, they are a spray nozzle and a discharge nozzle. When you brew the K-Cup, the machine first takes water from the water reservoir and heats it. The standard brewing temperature setting is 192 ° F (89 ° C), on some models it allows the user to adjust the temperature five degrees below the standard.
Next, the spray nozzle stabs the top foil seal while the discharge nozzle stabs the bottom of the plastic pod.
Hot water is pumped with pressure through a spray nozzle to fill the K-Cup chamber which starts the brewing process. Once done, the brewed coffee will easily flow into your cup through the discharge nozzle.
The end result is you have a delicious cup of coffee ready to drink.
Choosing The Best K-Cup Coffee Taste
Keurig brewing system has indeed changed the way people make and drink coffee in their daily lives. No wonder, if lovers all over the world always ask which K-Cup is the best to try?
Finding the best K Cup is not easy, it really depends on your interest. Then, which K-Cup variant is recommended for you to try?
We have compiled a lists of the 10 best K-Cup taste variants that you can buy on the market. Maybe some variants are new to you, but we promise you that everything we write is the result of research from all K-Cup coffee lovers.
10. Best K-Cup Coffee: Starbucks French Roast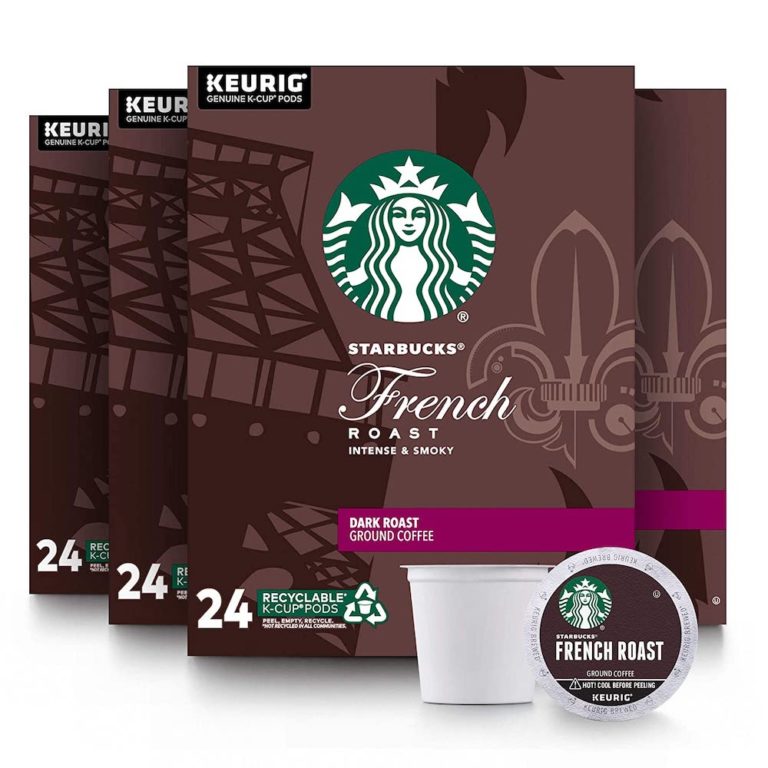 Stronger coffee from Starbucks for a K-Cup
Rich and bold flavor but still smooth
Always flavorful and it makes you excited
Pros:
Made from 100% Arabic coffee beans and no cholesterol contained
Cons:
A few cases of loose foil lids
9. Cinnabon Classic Cinnamon Roll – Best K-cup Coffee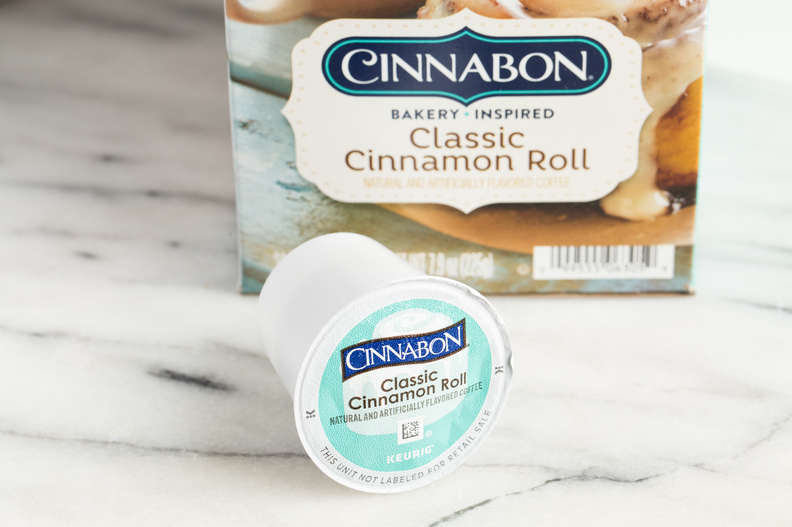 A combination of indulgent taste and irresistible aroma
The perfect aroma of Cinnabon cinnamon rolls
Pros:
Great price and made of the finest 100% Arabica coffee beans
Cons:
None that we could found
8. Best K-Cup Coffee: Green Mountain Coffee Roasters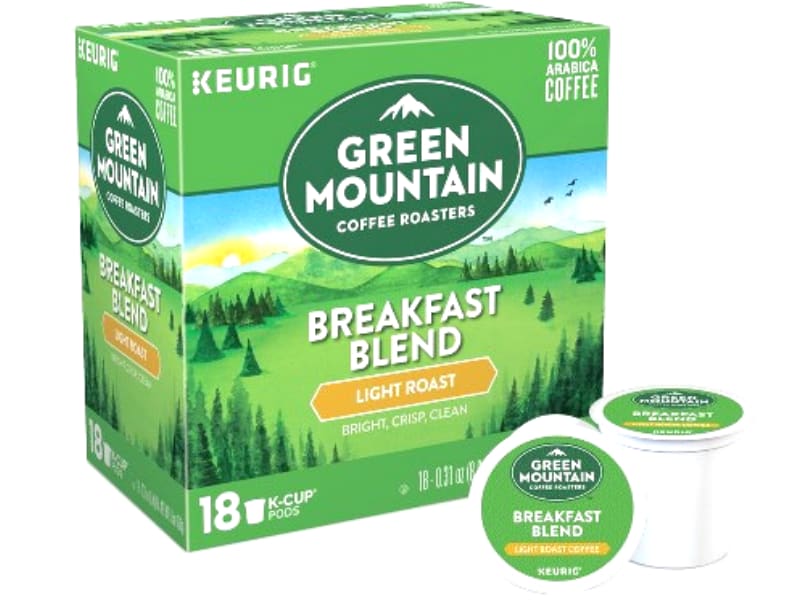 Amazing price
Light, but still carries plenty of flavors
Great for any time of the day
Pros:
They have great packaging and consistency of flavor.
Cons:
The price is rather expensive
7. Best K Cup Coffee: Barista Prima Coffeehouse Italian Roast Decaf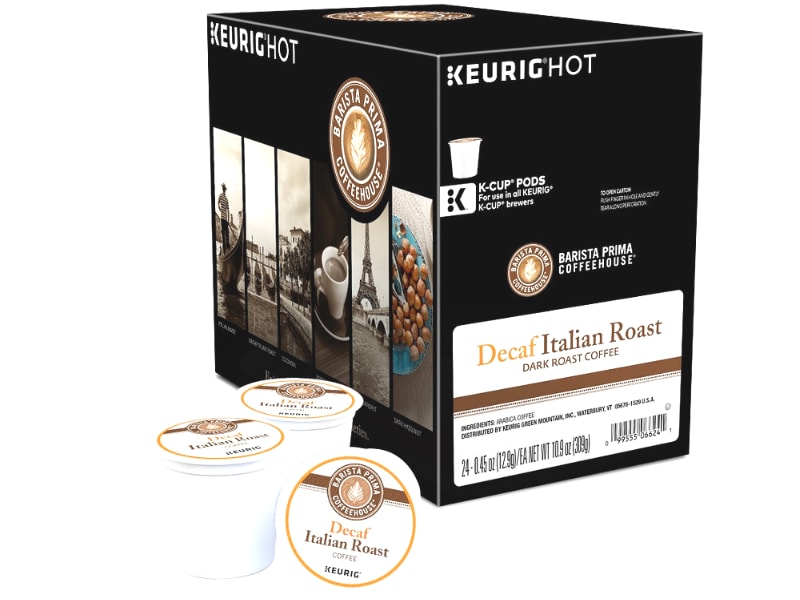 Super bold, even brewed for bigger cups
Taste of dark roast Italian coffee
Pros:
Serves the taste of decaf European style dark roasted coffee.
Cons:
None that we could find!
6. Eight O'Clock Coffee (The Original)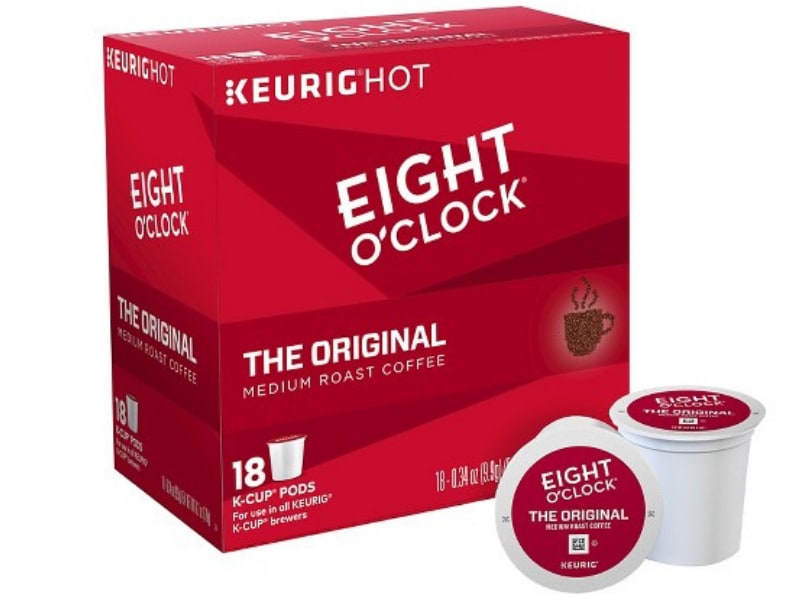 Suitable for consumption throughout the day
Does not taste bitter or burnt
Fine coffee at a good price
Pros:
Many are found on the market at reasonable prices, creating an extraordinary aroma when brewed.
Cons:
A few cases of "exploding" pods
5. Starbucks Caramel Flavored Coffee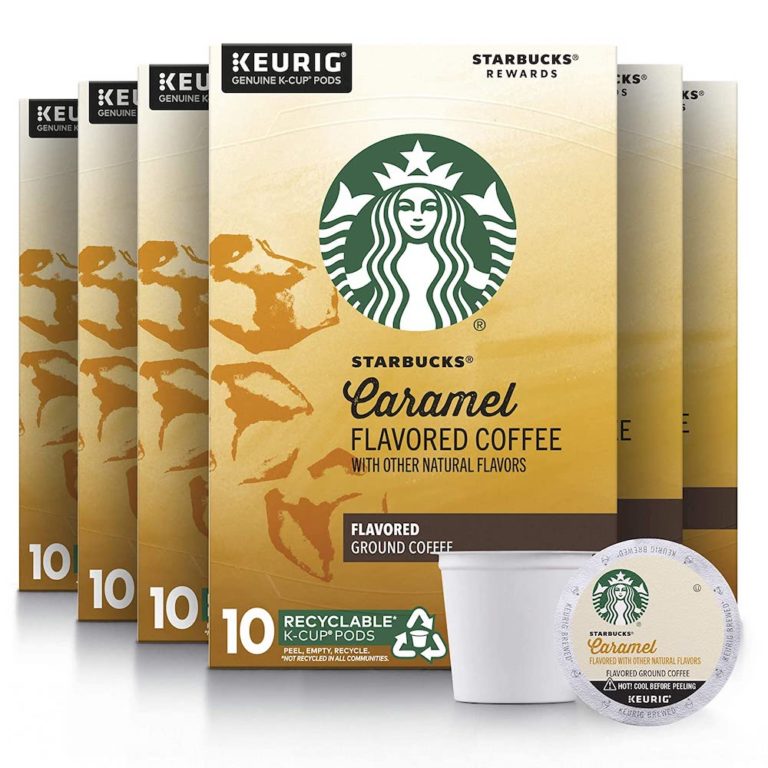 A sweet and buttery smooth flavor
Good price and made of 100% Arabica beans
Variants of caramel coffee are delicious to drink and easy to make.
Cons:
Few cases of loose foil covers
4. Caribou Coffee Caribou Blend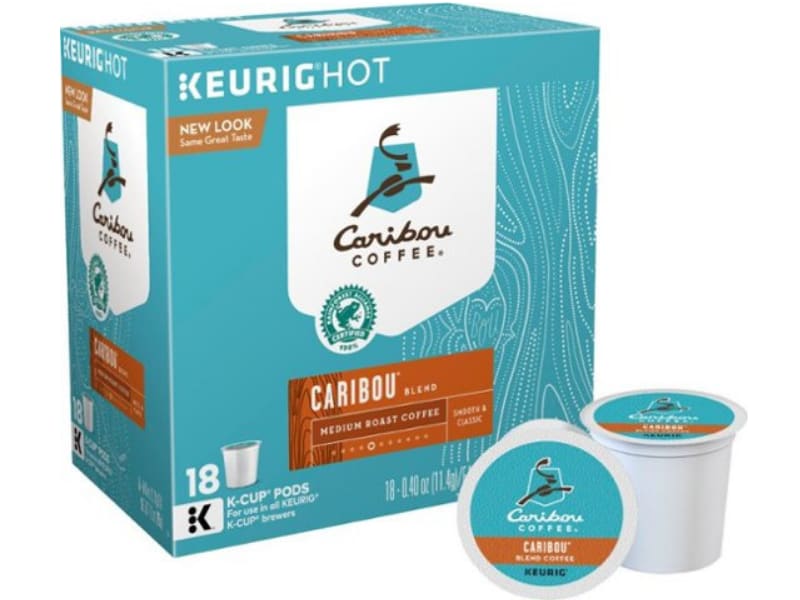 The price of this coffee is great
Not bitter at all and so smooth
Suitable for morning coffee drinkers
Consistency of flavor and aroma, with good taste and not too strong or too weak.
Cons:
A few cases of "exploding" pods
3. Peets Coffee Major Dickason's Blend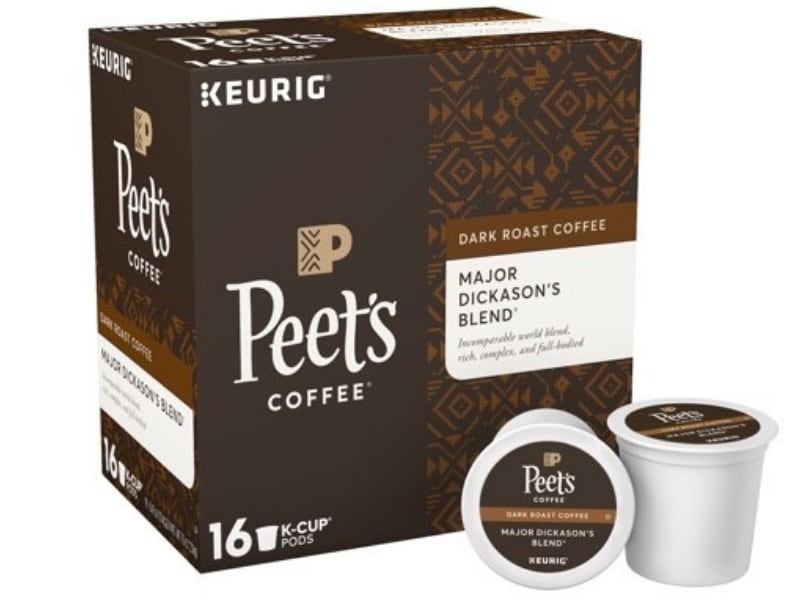 Rich and complex of taste
A very full, smooth body and layers of character.
Never bitter, delicious coffee
Good price for bold but not bitter coffee that consistent with the flavor.
Cons:
A few cases of "exploding" pods
2. Death Wish Coffee K-Cups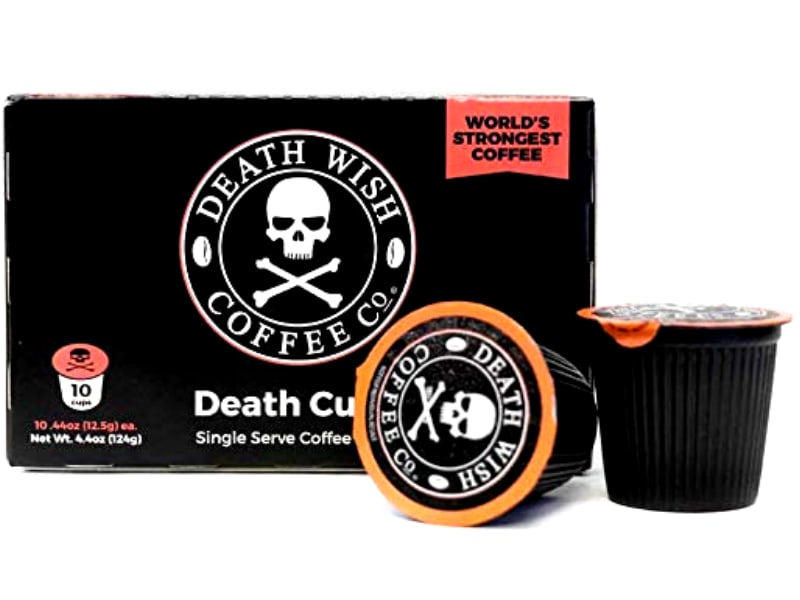 Super strong taste and very flavorful
The aroma hits you once you open the bag
The packaging is great, it makes pods staying fresh and be strong, powerful coffee every single time.
Cons:
The prize of this coffee variant is pretty expensive.
1. The Original Donut Shop (Regular)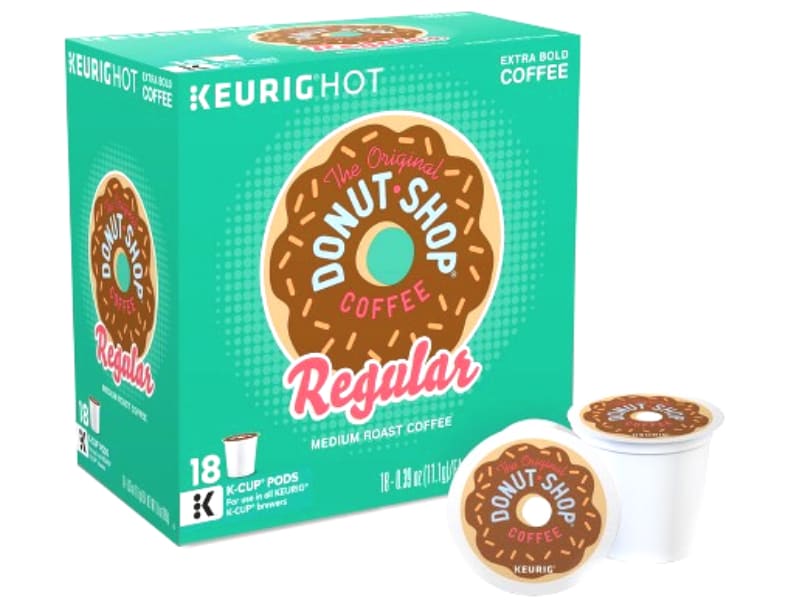 Very consistent delicious taste
Rich and bold taste, without too much bitterness
Good Price for coffee that simple to serve but always fresh and consistent with the flavor.
Cons:
A few cases of "exploding" pods
What Is The Best K-Cup Coffee Maker
If you ask the best coffee maker for K-Cups, of course, the answer is Keurig Machines. As we know that the K-Cup was indeed created by Keurig for use with their machines. Moreover, Keurig has specifically made a Keurig 2.0 engine which is only compatible with the K-Cup produced by Keurig.
This kind of thing also happens to other brands such as Nescafe (the Nespresso), Phillips (the Senseo), and Bosch (the Tassimo). They all also have their own pods or cups to use with their machines.
The original Keurig engine will definitely work with the generic K-Cup unless you have hacked it. On the Keurig 2.0 machine, there is a Digital Rights Management system that will scan the code on the K-Cup. The code listed must be valid so that you can brew coffee with this machine.
Now the question is, is the Keurig machine the only one that can be used to brew K-Cup?
The answer is no, there are several brands of coffee machines that have designed their machines to be able to use K-Cups. The Cuisinart SS700, Bunn, and Chefman are examples of coffee maker brands that are compatible with K-Cups. This is good news for those of you who have one of them and want to use K-Cup to brew your coffee.
How To Make A Perfect K Cup Coffee
If you want to make your K-Cup coffee blend perfect, we will share with you a few simple tricks that you may have just found out to try as follows
Reuse K-Cup and refill with your own grounds. This is an amazing trick because you can brew your own coffee using the Keurig machine. Don't forget to use extra-strength grounds to make your coffee taste good and strong.
Always brew the dark, bold roasts.

If you want coffee that tastes according to your goals, you only need to brew roast that is dark and bold.

Shake the K-Cup first.

A quick shake will help evenly distribute flavors and finer ground.

Two pods for the one cup

. For a more flavorful and stronger brew, use two coffee pods on the lowest ounce setting for one cup serving.

Add a little bit of salt.

Although it may sound strange, a few grains of salt can soften the acidity of the coffee, this will make the coffee very smooth.

Use filtered water for better taste.

Bottled water or filtered water will prevent the buildup of mineral deposits in your coffee machine which can affect the taste.

Immediately remove K-Cups.

Don't let the K-Cup sit in the Keurig after brewing, this will lead to a build-up of gunk and grime.

Clean the machine regularly.

Run a cup of white vinegar through the coffee maker once every two months can prevent the buildup of bacteria in the coffee machine. After that, run with fresh water to rinse it.