Some coffee lovers do not like the taste of black coffee which tends to be bitter. Therefore creamer comes as a compliment so that black coffee feels creamier and tastes softer. Then which is the best creamer to complement your coffee?
There is a wide selection of creamer from various brands on the market. We've grouped some of the best coffee creamers into several categories, so you can find out which is the best creamer product to choose from.
Best Tasting Coffee Creamer
1. Nestlé Coffee-Mate French Vanilla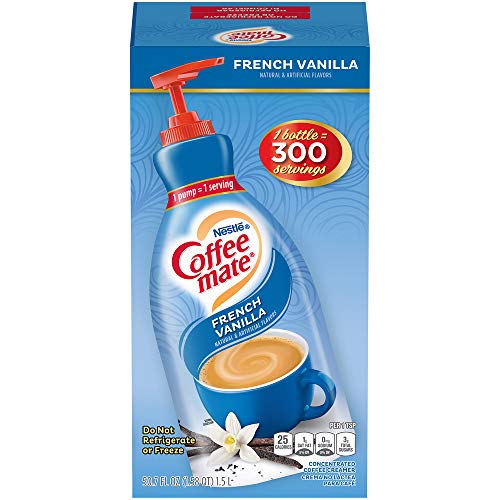 This Coffee Creamer product is one of the best dairy-free coffee creamers on the market. Nestlé has a baking prowess that produces the best-tasting creamer.
This product has a delicious vanilla flavor that can be enjoyed all year round. It is packaged in a bottle with a pump to dispense the cream.
In addition, this product is lactose-free, also halal.
2. Nutpods Pumpkin Spice Coffee Creamer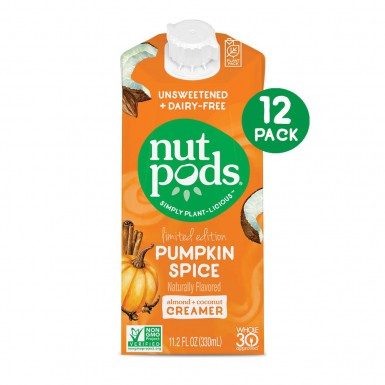 This creamer has a balanced tasting of pumpkin spice flavor with sweetness. You might hard to believe that this is an unsweetened product made from nuts.
Apart from it has a long shelf-life it also suits most diets. Just for notice, once you open it, it should be refrigerated.
3. Nestle' Coffee-Mate Original Powdered Creamer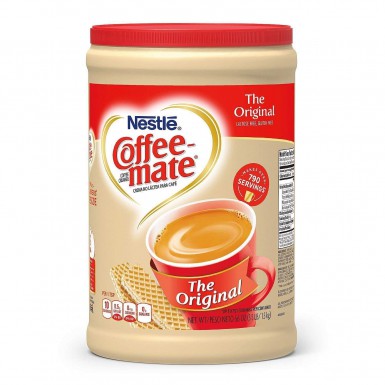 This powdered creamer product is gluten-free, dairy-free, lactose-free,cholesterol-free, and kosher. Its suit for who more like creamer powder than liquid.
This product has been popular for quite some time, it has great taste without overwhelming. Overall, we think this is one of the best-powdered coffee creamers on the market.
4. Starbucks Caramel Macchiato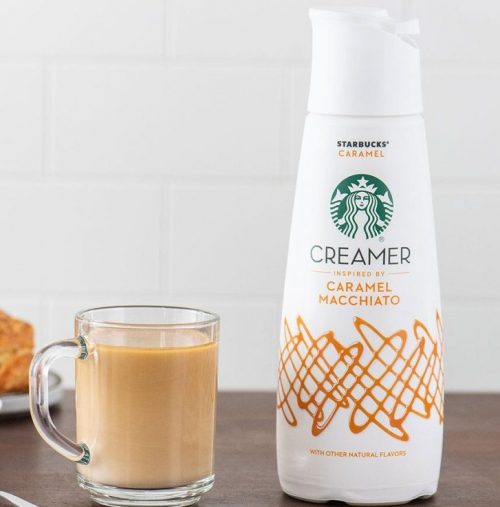 Starbucks provides good news for those who love Starbucks drinks but want to save their budget. They launched three delicious coffee creamer products. They are caramel macchiato, white chocolate mocha, and cinnamon dolce latte.
Starbucks Caramel Macchiato has the best tasting that will make your morning brew even more exciting.
Best Vegan Coffee Creamer
1. Trader Joe's Coconut Creamer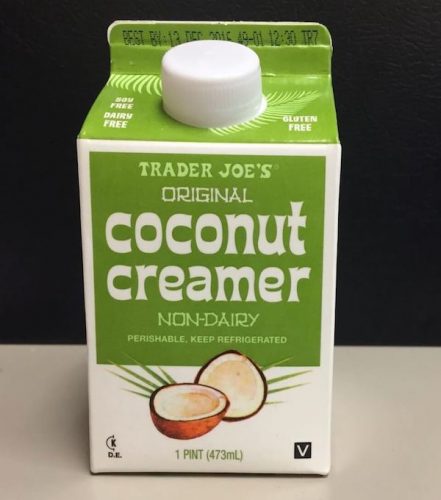 If you have are a vegan, Trader Joe's Coconut Creamer is good choice for your coffee. It is a non-dairy creamer with low-calorie and a slightly sweet taste.
This product is perfect for a vegan who really enjoys coffee but needs a little creaminess to mellow out its acidity.
2. Califia Farms Almondmilk Creamer Hazelnut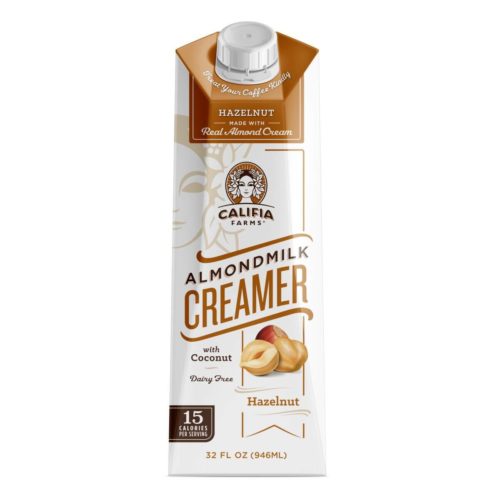 This is a Califia Farms product contained pure almond and coconut plant power, with swirls of hazelnut. So it is one of the best choices for your coffee if you a vegan.
Besides that, this product also soy-free, dairy-free, gluten-free, and GMO-free that also safe to consume if you are a concern for weight loss.
3. Nutpods Unsweetened Dairy-Free Creamer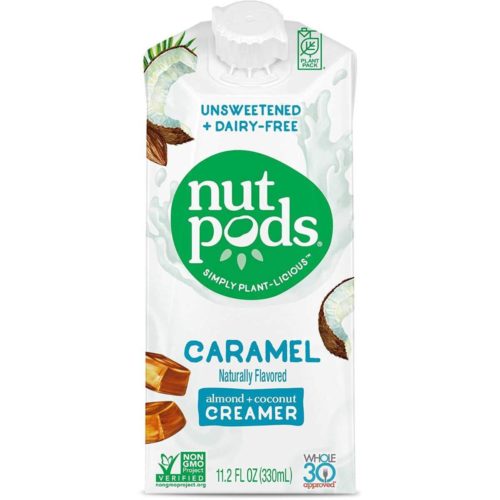 One more choice of best coffee creamer for vegan comes from Nut Pods. This is an unsweetened dairy-free creamer with a creamy, simple, and not too sweet taste.
Nut Pods has reliability in making a dairy-free coffee creamer with high consistency. Its product doesn't feather or separate in your coffee like soy milk can sometimes do.
Best Coffee Creamer for Weight Loss
1. Opportuniteas MCT Oil Powder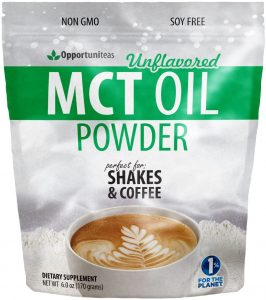 This product is the one almost perfect choice for those who concern about weight loss. Since it contains unflavored MCT oil powder that makes your coffee creamy without improving its taste.
MCT oil is an ingredient that acts as an appetite suppressant by making you feel fuller, so you lose more weight. This coffee creamer also sugar-free that means it also can be used for Keto.
2. Califia Farms Unsweetened Better Half Coffee Creamer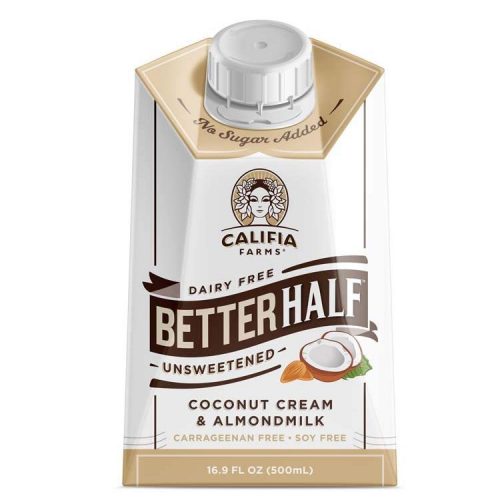 This coffee creamer is plant-based products from Califia Farms. Made from almond and coconut replacement. Its also sugar-free, dairy-free, non-GMO, and low in calories.
Means, this product is the best choice for weight loss and also great for vegetarian or vegan. With this creamer, one serving of your coffee only contains 15 calories.
Better Half has natural sweetening and doesn't separate at all in your coffee. But, it doesn't have any foam, so it's not suited for cappuccinos or lattes.
3. Nutpods Hazelnut Dairy-Free Creamer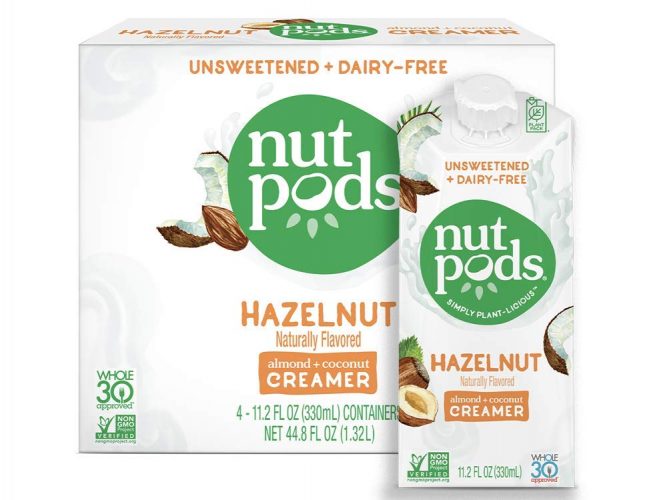 The Nutpods Hazelnut creamer gives you all the necessary things you're looking for like MCT infusion and the presence of natural additives. When it comes to weight loss especially, this coffee creamer supplies all you need in abundance.
Overall, This coffee creamer comes with all the basics right and you can get with a tight budget.
Best Keto Coffee Creamer
1. Perfect Keto MCT Oil C8 Powder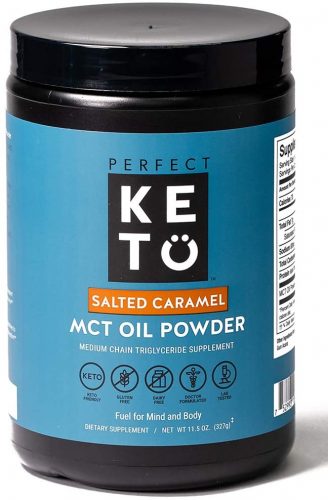 For those of you who have experienced the ketogenic diet certainly familiar with the Perfect Keto brand. As the name, this company concern to produce the products for individuals on their Keto journey.
One of their product is MCT oil C8 powder. It has a huge fan since its delicious flavors you can find in this powder.
Apart from the delightful flavors, it contains essential fats like MCTs extracted from coconuts and also free from harmful carbohydrates like sugar. They provide some health benefits for reducing obesity.
Simply, by drinking one cup of coffee in the morning and adding this powder as the creamer makes you satiated for a long time of that day.
Overall, it is the best choice of coffee creamer for low-carb diets like Keto, paleo, and gluten-free.
2. Left Coast Performance Keto Coffee Creamer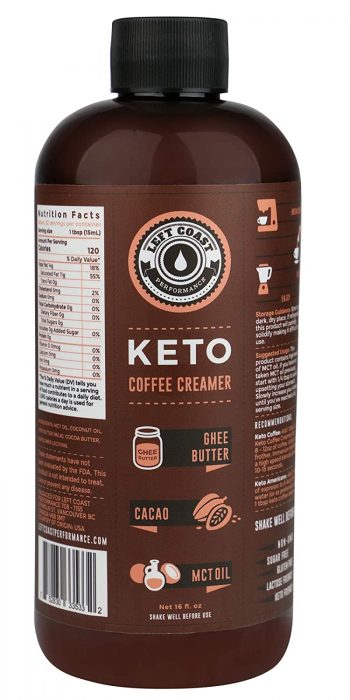 This Keto coffee creamer literally makes your low-carb lifestyle even more gratifying. It is a product of Left Coast Performance a company that is responsible for bringing the first MCT oil in the market which relied completely on coconut.
Like previously, this creamer made from organic ingredients like MCT oil, pure coconut oil, grass-fed ghee, and cocoa butter. And it also sugar-free, gluten-free, or other artificial ingredients which may pose a health risk.
You don't have to worry about gaining weight or suffer from sugary cravings after drinking your coffee with this creamer. Because it only has 2g net carb in its every tablespoon.
Overall, it is one of the best coffee creamers for ultra-low-carb diets like Keto. Make sure to shake the container well before use it.
3. Omega PowerCreamer Original Keto Coffee Creamer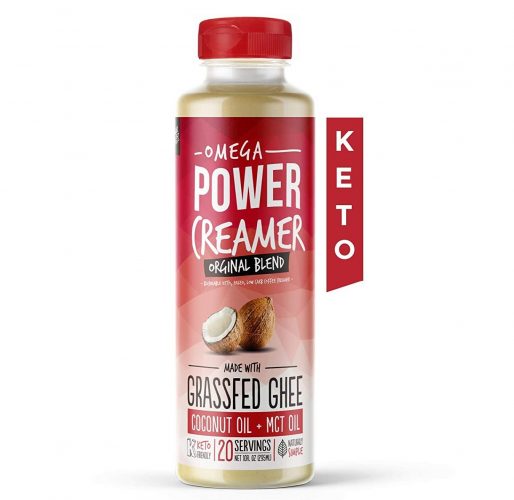 Since 2015, the PowerCreamer team has been developed the perfect creamer for the keto diet. They have seven interesting flavors including French vanilla, salted caramel, cinnamon roll, natural cacao, pumpkin spice, and peppermint mocha.
And also there is an 'original' version to complete any taste preference. Made from other organic ingredients like grass-fed ghee, coconut oil, and non-GMO sunflower lecithin. This creamer is also lactose-free, casein-free, and gluten-free.
Zero net carbs and lots of healthy fats contained, it can help you enjoy your journey for weight loss like Keto diet.
How to Choose the Good Creamer
If you are still confused about choosing the right creamer for you, we will help you. The following things will make it easier for you to make choices:
Type
In general, creamer is divided into two types, namely liquid and powder. If you use creamer as a complement to drinks such as coffee or tea to make it taste more creamy, then the choice of liquid form is always better.
However, if you want to use it to mix dough or toppings for your desserts, then the powder type is recommended.
Brand
Now there are various kinds of creamer brands on the market, from very affordable to expensive ones. Of course, you can adjust it to the needs and budget that you have set.
However, to ensure you get a delicious taste and comparable benefits, you should choose a brand that is well-known and has experience in its field.
Packaging
The quality of the packaging is certainly guaranteed if you buy creamer from a well-known brand. However, choosing a packaging size should be able to suit your needs.
If you need creamer on the go, small packaging is the ideal solution for you, easier and more practical. Conversely, if you only want to consume creamer at home, large packaging will be more efficient and economical.
Purpose
Just as we mentioned above, the selection of creamer should adjust what you need.
If you only want it as a complement to your drink to get a delicious taste, then you can refer to the best tasting coffee creamer list above.
If you want the same thing, but you are a vegetarian and even a vegan, then choose from the coffee creamer for the vegan list.
On the other hand, if you are losing weight, then you have to be calm because there are lots of creamer coffee available for weight loss or even the Keto diet.
Conclusion
The number of creamer coffee products on the market makes you dizzy choosing them, but please note that each product has its own advantages.
Our discussion in this article is an overview that can help you choose the creamer according to what you need. The list we write is based on sales ratings and consumer reviews on several marketplaces.