Getting your caffeine fix right on your kitchen counter is what the best automatic espresso machine offers you. It's one way to cut your budget of visiting the local coffee shop every morning.
An espresso machine right in the comfort of a kitchen is a new way of life for some people, especially coffee lovers. It's more than just a tool to make a beverage, it's like an investment. You need to get the one that has well-packed features and design-build.
So, it's very important to consider a lot of things before buying one machine that meets your needs. There are a lot of brands you're gonna be dealing with, but there are only a few recommended models.
How to Find the Best Espresso Machine
You should choose the best espresso machine that fits your style of drinking and, of course, budget.
There are some types of espresso machines you need to know before choosing what's best for you. It divides into 5 levels, manual, semi-automatic, automatic, super-automatic, and capsule.
Each machine has its specialty. In this post, we'd like to focus on the Semi-Automatic, Automatic, and Super-Automatic ones. Let's get to it.
1. De'Longhi La Specialista: The Best Semi-Automatic Espresso Machine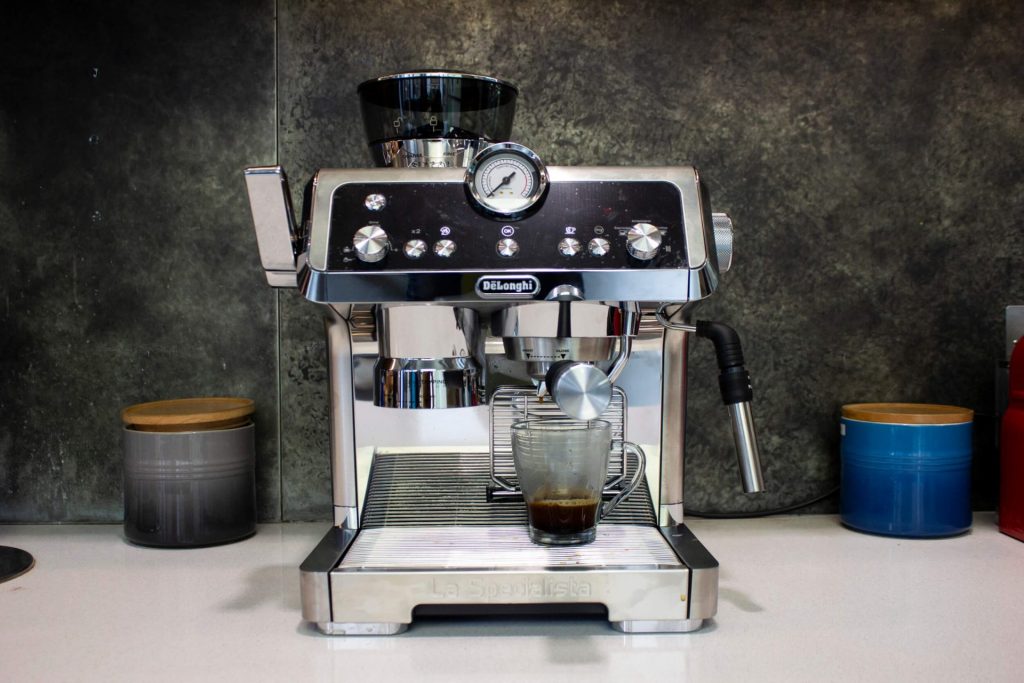 The first machine we'd like to review is La Specialista from De'Longhi that features sensor grinder, dual heating system, and many more.
This coffee maker is considered as one of the best automatic espresso machines in the market. With a well-packed set of features, La Specialista comes with a decent price of 790 bucks on Amazon.
The cost of this machine matches with what it has to offer. The fancy looks are not just an appearance.
It also delivers excellent quality of the espresso. Everyone can make espresso using this De'Longhi product since it's really easy to use.
You can even adjust it based on your preference. There are 6 grind sizes available from dark espresso to coffee. You can select the preset for kinds of beverage you want including hot water to make a cup of tea.
This semi-automatic espresso machine features a smart tamping station that allows you to simply pull the lever to deliver a perfect result. You don't have to remove a filter anymore. The process would be free of mess.
The steam wand in this machine is adjustable. It can be used for foamy or flat milk according to the drink you're making. To make espresso after another, you might need a knock box as the additional attachment.
2. KRUPS EA89 Deluxe One-Touch: The Best Super Automatic Espresso Machine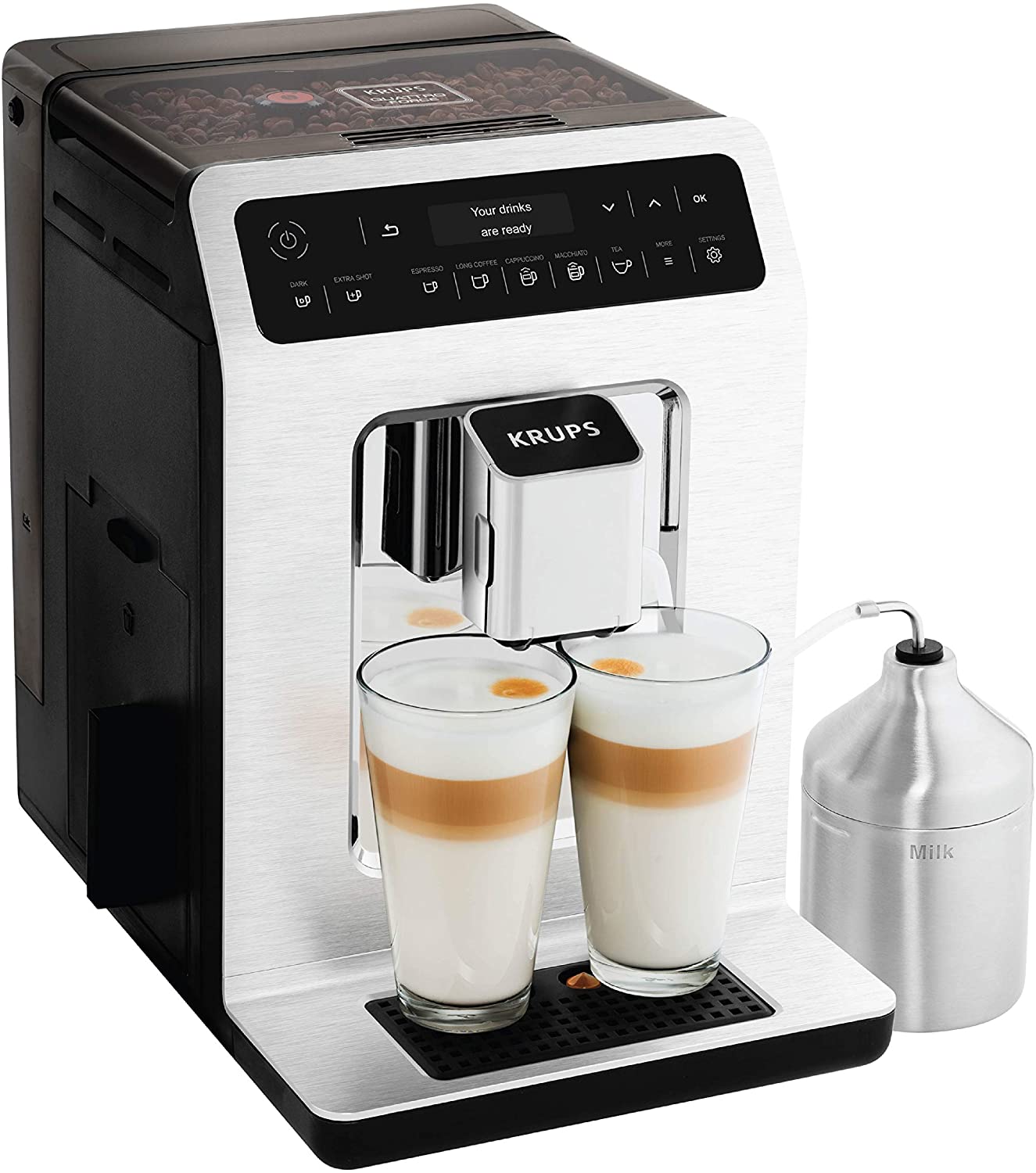 This fully automatic coffee maker brews delicious cafe-quality drinks right at your kitchen. You can make one cup of the beverage with just a simple button touch. It's not only the best automatic espresso machine but also super easy to use.
If you're new to this kind of automatic, one thing you have to know. You just need to touch the "on" button. After that, you can just follow the step-by-step set up right on the screen as your guide. From preheating to brewing and cleaning, you'll be guided.
You can even set the time, date, and the hardness level of the water. Everything is just automatic, requires no effort. The appearance of the buttons is so responsive and clear. Through the process, the machine will show what it's up to, right on the screen.
Many people consider this KRUPS product as the easiest-to-use and labeled as the best automatic espresso machine in the market. Another thing that's worth a mention is the milk container. It easily connects to the coffee outlet.
It gives you a chance to adjust the heights of the cup smoothly. It will also prevent splattering that happens a lot in other machines. This coffee maker is available on Amazone for about 500 bucks.
KRUPS EA89 Deluxe also has one of the most unique features. It allows you to set a "wake time to certain times of your desire. It can be in days. So, every time you want your cup of coffee, it would be in hot temperature.
3. Mr. Coffee Specialty Pods Coffee Maker: Best All-in-one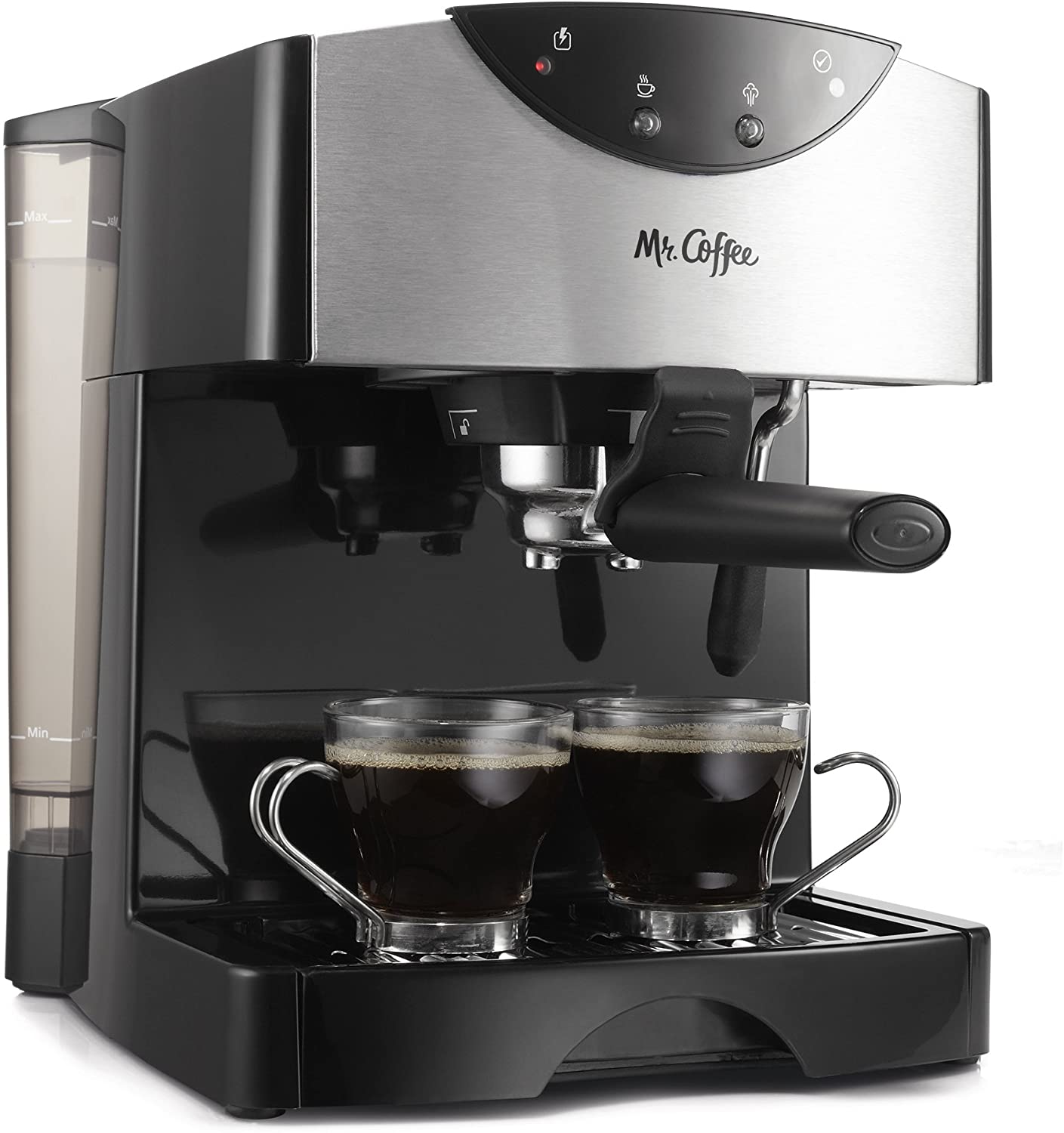 If you're looking for an all-in-one machine that comes with an affordable price, this is the one. This is the coffee maker that would satisfy every craving you have.
Experience the traditional drip coffee brewing with this fantastic machine. It's packed with a 10 cup thermal carafe that makes up to 12 oz. of single-serve espresso. To make a drink, you'll need the pods or capsules.
You can use this machine to make espresso, drinks with pods, and coffee in a thermal carafe. To handle the milk froth, this product also comes with a steam wand. It's got an easy-to-use control panel, too.
The attachments that are compatible with this machine are easy to attach and detach. The thermal carafe is quite effective to keep the drink hot. It can still be hot for hours, even a day. On Amazon, this all-in-one coffee maker is only for 230 bucks.
There's a special feature that can detect the attachment automatically. For example, if you plan to make a traditional coffee, the machine will give the right brew size option to process the ingredients.
It also features a smart water system that dispenses it just the right amount that you need. The temperature control system gives an ideal level of heat to the drink for every brew type.
Let's talk about design. It looks stylish to be on top of your kitchen counter. There's a removable drip tray for easy cleaning and other attachments that make everything much simpler.
4. Breville-Nespresso USA VertuoPlus: The Best Semi Automatic Espresso Machine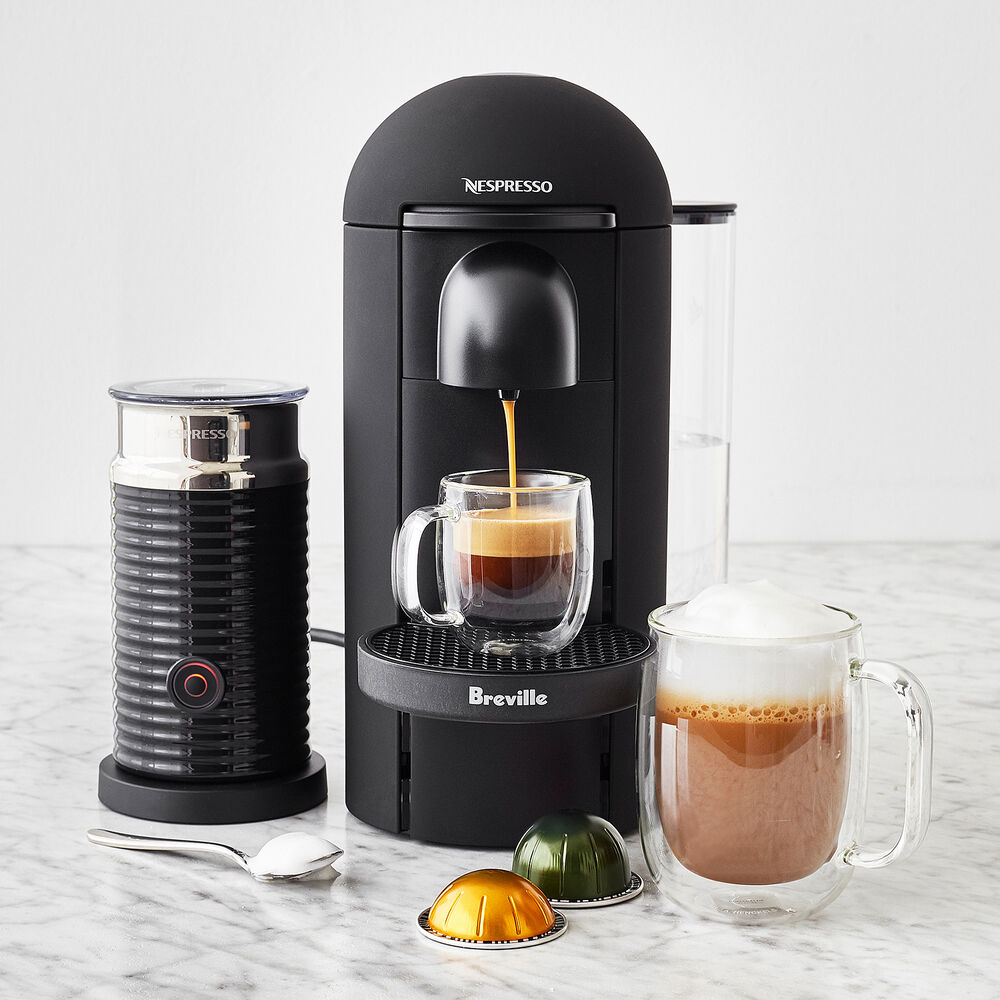 Every time we're making a list of the best automatic espresso machine, one of the models from the Nespresso brand need to be on it. This one is something you should consider having on one of your kitchen counters.
The very first thing we have to mention about this coffee maker is its ease of use. Nespresso VertuoPlus.
You can start making espresso by simply touching a button. To open and close the lid is using the same method.
This machine won't work if you put it in the wrong pod. It will detect the capsule through the barcode.
Then, it will begin to brew perfectly.
This particular system can only work if you have the right pods. You can buy them at the official store.
There are 5 drink types available for this machine, such as espresso, double, gran lungo, alto, and mug.
One interesting feature of the design of this espresso machine is the flexibility of the water tank's position. You can move it around to get it to the specific space on the counter. One of the best things about Nespresso VertuoPlus is the affordable price. It's only about $150 on Amazon.
5. Keurig K-Cafe Coffee Maker: Best for Beginners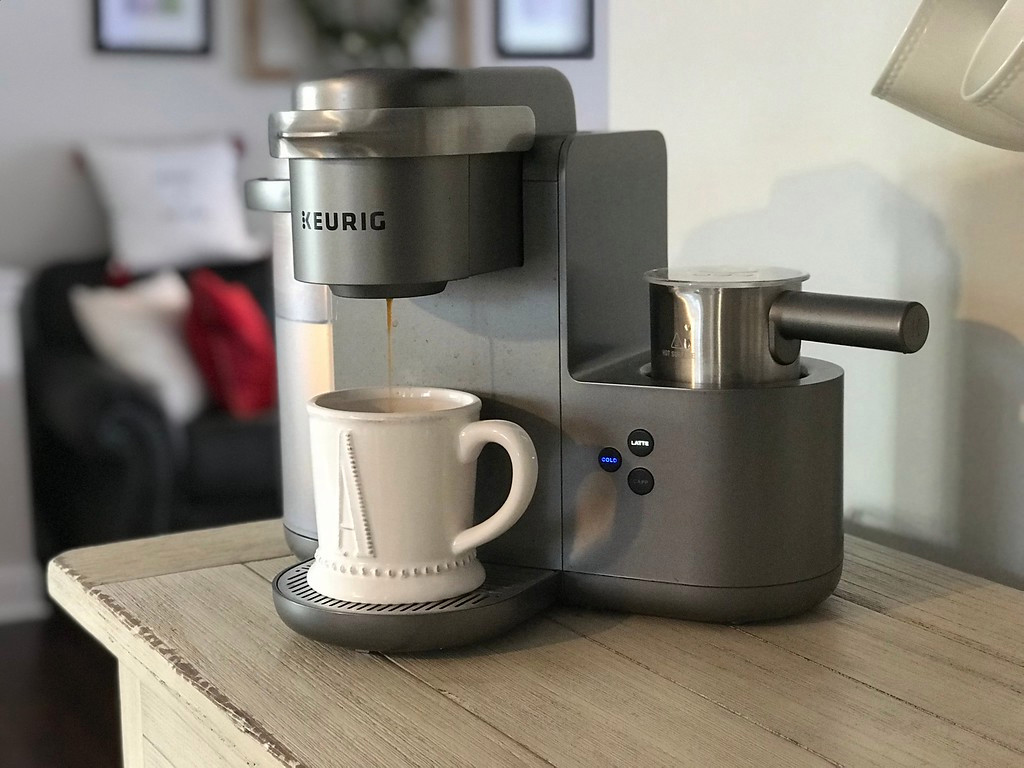 If you're a beginner in operating an automatic espresso machine, this one is for you. This coffee maker is designed with ease of use for everyone. It's one of Keurig's best-selling products that you must have in your kitchen.
This machine is the option for you to mindlessly froth milk. So, you can enjoy the great taste of coffee, lattes, and cappuccinos from one simple tool. With the easy and simple button controls, you can easily make your favorite beverages.
Compared to some other machines, this one has a smart start feature. It heats and brews the coffee in one simple process. There's no need to wait for the heating process before choosing the size.
Keurig is a straight competition for Nespresso. One of the good things about this brand is the K-Cups compatibility. You are free to choose pods and capsules from anywhere with various kinds of flavor.
If you're a new coffee lover, you need this machine to accompany your journey of enjoying the drink.
Needless to say, this one surely the best automatic espresso machine for a beginner.
Features to Consider in Finding the Best Automatic Espresso Machine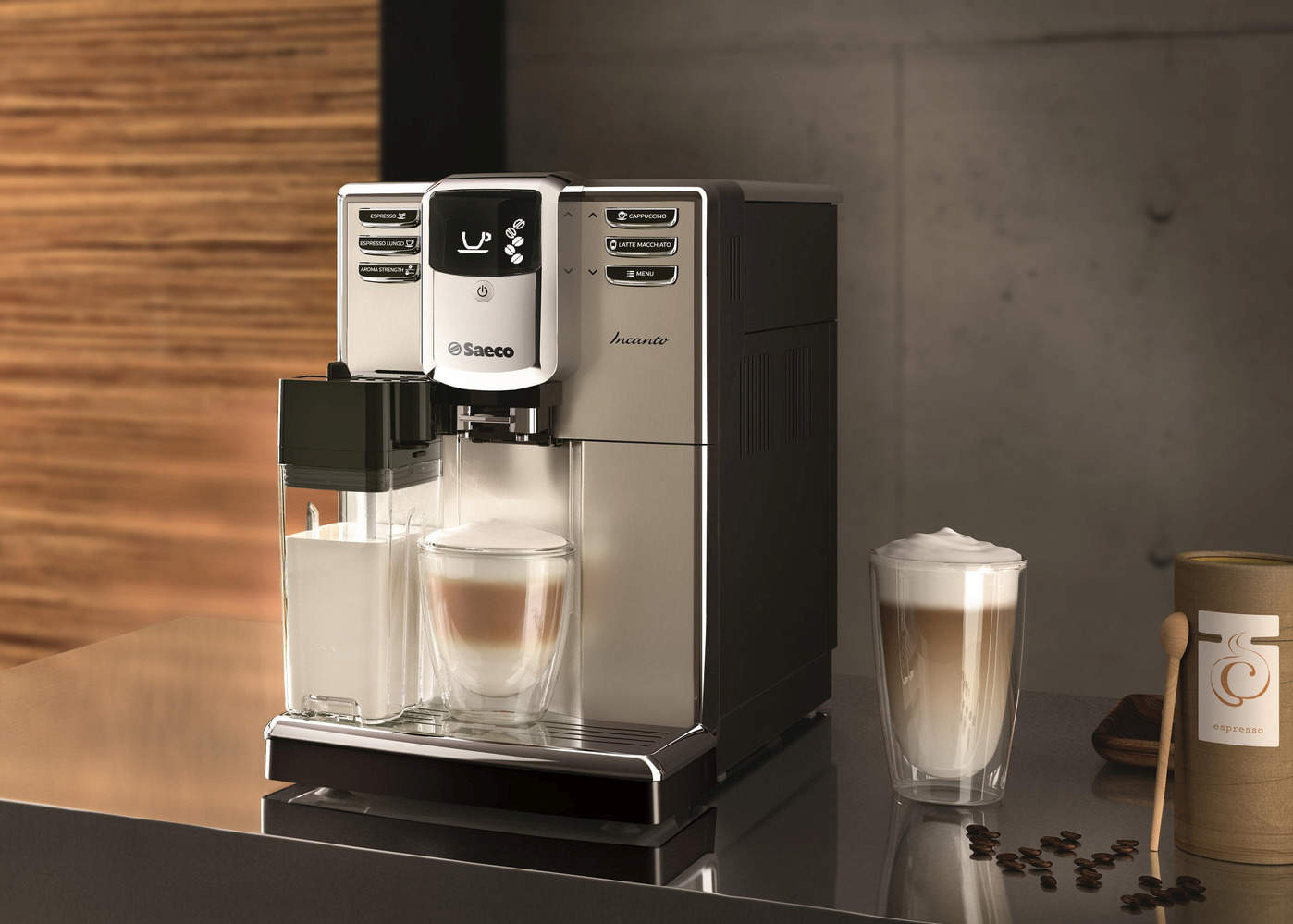 There are so many different features you will find when exploring various automatic espresso machines.
So, what features to look for?
The first one is its programmability. If you look for a programmable machine, you can program the types and strength of coffee you want. Some super-automatic ones have a simple one-touch display.
The next to consider is the boiler type. There will be a lot to explore. If you tend to make coffee for large groups, you need the one with dual boilers.
The milk frothing should also be something to consider when looking for the best automatic espresso machine. This is the one that makes the coffee maker able to make a great cappuccino or latte.
If you're not into such beverages, then the milk frothing shouldn't be on your radar. The next one to look for is the bean grinder. If you like it strong, you might want to buy the machine with its removable brew head.
Having a machine that's easy to clean is a must. So, make sure the one you pick to be in your kitchen offers cleaning at ease.
When looking for the best automatic espresso machine, there are a lot of options available on the market. After reading this post, you know what to look for. So, which coffee maker fits your kitchen counter?